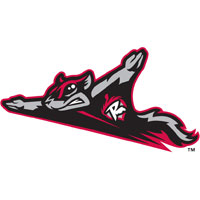 The Richmond Flying Squirrels (49-34) clipped the Harrisburg Senators (32-50), 3-2, at Metro Bank Park on Tuesday night.  With the win, the Squirrels return to a season-high 15 games over .500 and maintain first place in the Western Division.
The Squirrels jumped on Harrisburg right-hander Paolo Espino immediately at the outset of the ballgame.  Espino hit the first batter he faced in the first, Tyler Graham, to start trouble.  Kelby Tomlinson followed a blistered a triple through the alley in right-center field.  Graham scored for a 1-0 lead.  Matt Duffy then grounded out to bring in Tomlinson for a  2-0 advantage.
Richmond righty Kyle Crick made his second consecutive start against the Senators.  Just like his previous outing, he blanked Harrisburg over five innings.  He conceded just two hits, walked two and struck out five.  Crick did not factor in the decision.
Espino had no trouble after the first inning and outlasted Crick through the sixth inning.  He was charged with two runs on four hits, walked none and struck out seven.  Espino left trailing, but was spared the loss.
Right-hander Andrew Carignan came on for Crick in the sixth inning and walked the lead-off man, Matt Skole.  Kevin Keyes followed and cranked a two-run home run to left-center field to tie the ballgame, 2-2.
Richmond grabbed the lead back against righty Paul Demny in the top of the seventh inning.  Skyler Stromsmoe triggered the inning with a one-out single to right field.  Demny then walked Mario Lisson to put two aboard.  After Demny recorded the second out, Tomlinson notched his second RBI of the night with a single lined to left-center field.  Stromsmoe came across to make it 3-2 in favor of the Squirrels.  Demny (1-1) took the loss for Harrisburg, although he ultimately worked three innings of relief.
Lefty Josh Osich (1-0) was in control over his 2 1/3 innings of work.  He retired all seven Senators that he faced, striking out two.  He earned his first victory of the season.
Right-hander Hunter Strickland was dominant in the ninth inning, striking out the side in order on just 10 pitches to earn his second save of the season.
Game three of the four-game series is scheduled for 7:00 p.m. on Wednesday night at Metro Bank Park.  Richmond RHP Austin Fleet (5-1, 3.38) will make the start against Harrisburg RHP John Simms (1-0, 1.29).  The Flying Squirrels Pregame Warmup begins at 6:30 p.m. on Sports Radio 910 and SportsRadio910.com.