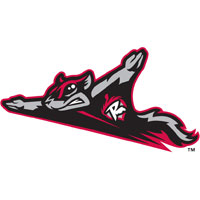 The Richmond Flying Squirrels, Double-A affiliate of the 2014 World Series Champion San Francisco Giants, are proud to announce three new renovation projects to enhance fan experience at The Diamond.
The transformation begins with the installation of new individual seats in the upper level, similar to those in the lower level to replace the majority of the silver bench seats previously known as the "Silver Reserved Section". Additionally, the Squirrels have removed the old stage at the top of the main steps and are creating a fully revamped HCA Ultimate Family Entertainment Zone.  The new Entertainment Zone will extend out from the top of the middle (unused) staircase facing inward to the concourse and will provide a temporary stage complete with canopy for the baseball season. The new structure will open up the middle of the concourse for additional food carts, vendors and better traffic flow. A new party deck is also being added at the end of the upper deck down the left field line to satisfy the demand when the other two are sold out and will seat approximately 40 guests.
"As long as we are operating at The Diamond our fans deserve for us to give them new and improved experiences," said Flying Squirrels VP & COO Todd "Parney" Parnell. "These upgrades will enhance both the overall entertainment aspect while simultaneously enhancing the comfort level for many."
"Although we may only be playing in the Diamond for two more years our devoted fans and our staff deserve to have an improved facility," said Chuck Domino, Chief Executive Manager. "A lot of credit goes to Lou DiBella and his ownership group for realizing the importance of taking care of our customers and continuing to invest in our operation."
The new seats will be designated as "Terrace Level Boxes" and are available for purchase in mini-plan packages, groups and individual tickets. A new ticket pricing structure has also been introduced to accommodate these changes and a full ticket and pricing chart is attached. Field level seating (previously known as the Diamond Club) is now $12 in advance and $13 day of game. Terrace Level seating (previously known as Silver Reserved) is now $10 in advance and $11 day of game. General Admission seating is now $8 in advance and $9 day of game. Mini plans, season tickets and group packages all provide additional methods to enjoy the region's most affordable venue for family fun.
The Flying Squirrels 2015 season begins April 9th at 6:35PM against the Bowe Baysox. Season tickets, mini plans and group packages are currently available by contacting the box office at 804-359-FUNN or online at www.squirrelsbaseball.com.