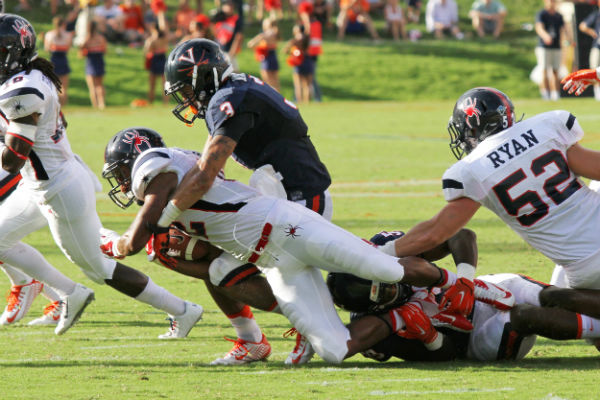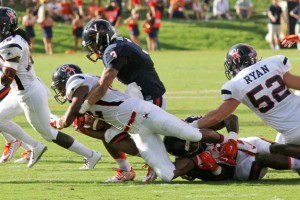 Richmond outgained UVA by more than 100 yards. Two Virginia transfers, Michael Srauss and Michael Rocco, combined to throw for 366 yards against a defense that stifled seventh-ranked UCLA just a week ago. If it didn't feel like a 45-13 Cavalier win, it's because it was just a play or two away from being something entirely different.
"Seven turnovers. I don't even know where to begin with that. I don't even know if I'll be able to answer any questions about that very clearly, because I just don't know enough about where to go from here," Richmond coach Danny Rocco said by way of hitting the nail on the head.
The Spiders (1-1) had their chances to make it more interesting, but a second-quarter interception thrown by Strauss snuffed out one drive in Virginia territory, and then T.J. Moon fumbled on a second-and-goal from the 1 in the final 30 seconds.
"That was probably as deflating of a moment that there was out there today," Rocco said. "We had some bad moments, but that was the most deflating as we had the ball down there on the 1 yard line."
Virginia took the second half kickoff and scored on a quick drive to cement the momentum shift, pushing the lead to 21-3 on a 3-yard TD run by Taquan Mizzell that pushed the lead to 21-3. Richmond would never be closer than 15 the rest of the way, but it wasn't as if the Spiders threw in the towel. ur put up 258 yards of total offense in the second half, but the turnovers were just too much to overcome.
"You have to give Richmond credit," UVA coach Mike London said. "There were a couple balls that were thrown up in the air that we need to be more aggressive with. Both Richmond quarterbacks did a good job finding their open receivers and they performed well."
Give Richmond credit, indeed, for doing what UCLA and preseason Heisman hyped quarterback Brett Hundley couldn't do. Hundley led the Bruins on just one scoring drive in a 28-20 UCLA win that was built on the back of three defensive touchdowns.
That all said, all the yards, all the driving up and down the field, and Richmond still only scored 13 points.
"We have room for improvement, but overall we had seven turnovers and a lot of aggressive plays. It was a positive part of the game. But we will go back and look over the negatives. Louisville is a team with a lot of great skilled players, and we will need to sure up what we are doing for next week," London said.
– Column by Chris Graham