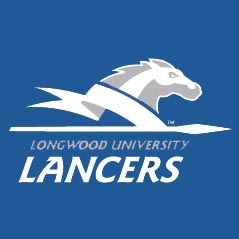 Presbyterian forwards DeSean Murray and William Truss took advantage of Longwood center Lotanna Nwogbo's absence and both recorded double-doubles to lead the Blue Hose to a 71-67 win over Longwood Wednesday evening in Willett Hall.
The freshman Murray neared a triple-double with 18 points, 12 rebounds and eight assists, while Truss scored 16 points and grabbed 11 boards. The performances came as Longwood played for the first time all season without the 6-8, 255-pound Nwogbo, who was forced to the bench with a thumb injury he suffered last Saturday at Charleston Southern. Presbyterian exploited the Nwogbo-sized hole in the lane to the tune of a plus-16 rebounding margin and 36 points in the paint.
The interior dominance of Murray and Truss was enough to outpace another offensive explosion from Longwood redshirt senior point guard Quincy Taylor, who scored 23 points on 8-of-15 field goals and 5-of-9 three-pointers for his fourth 20-point game of the season. Taylor hit back-to-back three-pointers in the final minute to cut a six-point deficit to two, but Presbyterian sophomore Markus Terry iced the game with back-to-back free throws with 10 seconds left to push the lead to two possessions.
While Terry, Murray, Truss and Jordan Downing all scored in double figures for Presbyterian, Taylor was the only Lancer to breach double digits. Meanwhile, Nwogbo's 12.9 points and 8.2 rebounds were forced to the bench by way of a protective splint on his right hand.
"With Lotanna out, it really hurt us," junior guard Leron Fisher said. "We didn't step up on rebounds. Presbyterian was able to get offensive rebounds and putbacks, and that really cut us."
The minus-16 rebounding deficit was Longwood's largest of the season, and Presbyterian used that advantage to score 20 points on second-chance opportunities. Truss and Murray combined for eight of Presbyterian's 14 offensive boards and created 15 of those second-chance points on their own.
"I thought the big key was rebounding," Longwood head coach Jayson Gee said. "That was the game. We just did not rebound the basketball. The other thing we didn't do, we didn't shoot the ball well. That group of shots, I would have to say, are some of the best shots we've had all year. We just didn't make them."
Longwood (5-13, 1-4 Big South) shot 26-of-68 (.382) from the floor and .357 (10-of-28) from three-point range. Playing without Nwogbo for the first time all year, the Lancers spent the early portion of the game cautiously probing Presbyterian's defense while working the ball around the perimeter. Three of Longwood's first five shots were from three-point range, and it wasn't until 3:35 into the game that the Lancers scored their first points, doing so on a Fisher three-pointer.
"I thought the first five minutes, we didn't know who we were," Gee said. "We were just playing blind out there without [Nwogbo], and we've got to get used to it. We have to get used to it quick."
Longwood's initial unease allowed the Blue Hose to jump out to a 25-14 lead with a combined 12 of those early points coming from Murray and Truss. But just as Presbyterian's lead swelled to double digits, a flicker of salvation from Nwogbo's absence flashed in the form of sophomore forward Damarion Geter, who scored a career-high eight points while assuming Nwogbo's interior role. The 6-7, 215-pound Geter hit 4-of-6 shots from the floor with six rebounds and three blocks on the way to setting or matching career highs in points, made field goals, blocks and steals.
"Guys are ready to play, so I don't think taking on those new roles is that hard," said Taylor. "It's just getting ready for that role and that pressure, and practice is going to help a lot with that also. Guys are ready to step up."
Geter and 6-8 freshman forward Victor Dorsey sparked Longwood's comeback from the first-half deficit, making back-to-back buckets to jumpstart a 19-9 run that took Longwood into the break trailing by just one point at 34-33. Dorsey would split time in the interior rotation with Geter, finishing with four points, four rebounds and a +6 in his 19 minutes of action.
"It's a big difference, without Lotanna; we lost that inside presence, but as a team we just have to step up," Fisher said. "Geter and Vic, they excelled today. It's just a matter of more reps, more time, and we'll get better."
Longwood will get two days to work on their new look in advance of Saturday's rivalry matchup with Liberty in Willett at 5 p.m. The game will be a "White-Out Willett" night with fans and students encouraged to wear white attire to white-out the stands.
"I've got a disappointed basketball team in there," Gee said. "I hurt for them, but at the same time we don't feel sorry for ourselves. If they are who I think they are, they're going to rebound and fight back. We'll have a great crowd here Saturday, something to be motivated to get done."