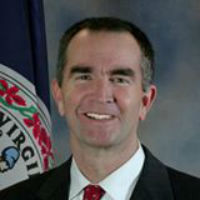 Democrat Lt. Gov. Ralph Northam has leads on each of the four 2017 Republican governor contenders, according to a new poll from Quinnipiac University.
Northam leads former Republican National Committee chair Ed Gillespie, 38 percent to 34 percent, and has nine-point leads on Prince William Board of Supervisors chair Corey Stewart, Congressman Rob Wittman and State Sen. Frank Wagner.
In the race for the Republican nomination, Gillespie, who made a surprisingly strong run for Mark Warner's U.S. Senate seat in 2014, has an early commanding lead on the field, with the support of 24 percent of GOP voters, with Wittman at 10 percent and Stewart and Wagner each at 4 percent.
It's important to note that it is early, early, early, and that none of the contenders is well-known at this stage, with the percentage of voters who don't know enough about the contenders to form an opinion ranging from 66 percent to 86 percent.
"At least part of Northam's general election lead and Gillespie's lead among Republicans is due to their better name recognition," said Peter A. Brown, assistant director of the Quinnipiac University Poll.
"This race for governor is just beginning and none of the candidates, including Northam and Gillespie, in either party has anything approaching widespread name recognition.  The candidates who reach that level will become the early leaders."
More from the poll:
Virginia voters approve 52-30 percent of the job Gov. Terry McAuliffe is doing. Approval is 75-8 percent among Democrats and 52-32 percent among independent voters.  Republicans disapprove 57-27 percent.
The State Legislature gets a 47-31 percent approval, with similar scores among Democrats, Republicans and independent voters.
A total of 67 percent of voters are "very satisfied" or "somewhat satisfied" with the way things are going in Virginia today, while 32 percent are "somewhat dissatisfied" or "very dissatisfied."
In an open-ended question, allowing for any answer, 23 percent of Virginia voters say the economy is the most important problem facing the state today, followed by 12 percent who list education, 8 percent who cite mass transit and 6 percent who say "politicians" or political leadership.
More online: Visit www.poll.qu.edu or www.facebook.com/quinnipiacpoll.