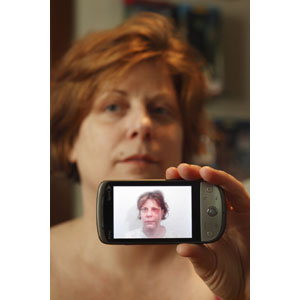 A Downtown Waynesboro business owner was brutally attacked outside her Florence Avenue home in the early-morning hours of Aug. 28, and her attacker remains at large as police investigators continue to work leads in the case.
"What got me through this … I kept saying to myself, I have to stay alive for Dylan," said Heather Owens, the owner of Natural Beauty Studio, recounting the 1:30 a.m. beating that left her bloodied, bruised and unconscious for several hours.
Investigators are treating the incident as an aggravated assault. A Waynesboro Police Department spokesperson said it does not appear at this time that Owens was sexually assaulted, and that there is also not any evidence indicating that robbery or attempted robbery was involved in the crime.
Sgt. Kelly Walker said DNA evidence collected at the scene has been sent to the state crime lab in Richmond for analysis. Owens said DNA samples have been taken from several acquaintances, including friends of her son, Dylan, 15, a sophomore at Fishburne Military School, and others that she'd been in contact with that day.
 
________________________________________________________________
Related: Tough call-Should PD have gone public with attack details?
________________________________________________________________
 
Owens had just let her dog out into her backyard moments before the attack. She fought back initially, but was knocked unconscious during the attack. She came to and found her attacker standing over her.
"I went into yoga mode at that point," she said, describing how she slowed her breathing using techniques she teaches in her yoga classes to essentially try to play dead.
Owens said she got a good look at her attacker, but she doesn't know his identity
"I've not known anybody to have a vendetta against me," Owens said. "It's not anybody I know. I've never seen the person in my life. They've got a theory about it being a stalker, but there are a couple of theories going around."
Walker said the investigation is currently focusing on several potential suspects, but he wouldn't go into any further detail.
Owens, who still has a black ring around her left eye reminding her of the attack six weeks ago, reopened her business last week.
"The support I've received from clients and friends has been overwhelming," she said.
 
 
Story by Chris Graham. Chris can be reached at [email protected].