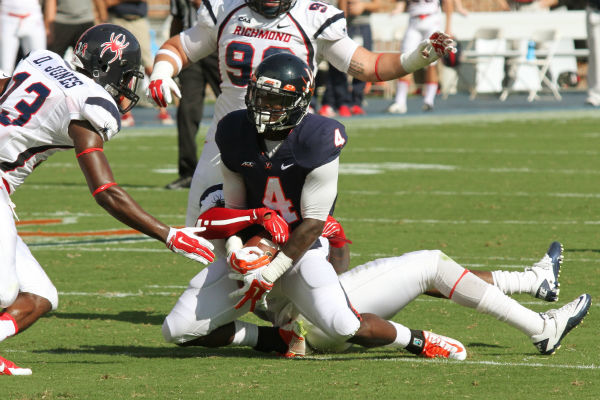 After running a majority of offensive snaps with the quarterback in the shotgun in 2014, UVA is trying to establish a new offensive identity.
"We want to be able to run the ball, because if you noticed today, our quarterbacks were under center more. If you want to run the ball, you're going to have to be able to run the play-action passes that can accompany that. That's the identity that we want to establish," coach Mike London said after the spring game on Saturday.
The running game seemed to get a bit of a boost, averaging 4.4 yards per rush in the spring game, gaining 196 yards on 45 carries. The 2014 Cavs ran for an anemic 3.7 yards per rush, 99th among the 128 teams in FBS.
So that was good news, more productivity. Or was it more productivity? Looking at the play-by-play, 158 of the yards came on five rushes.
Factor out yards lost on sacks, and you're left with 63 yards on the other 35 carries.
Yeah, ugh.
– Story by Chris Graham