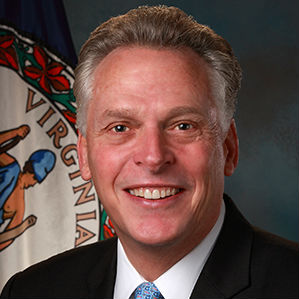 Governor Terry McAuliffe announced in Hampton Tuesday that Alcoa Power and Propulsion, a business unit of Alcoa Inc. (NYSE: AA) and a global leader in superalloy airfoil and titanium and aluminum structural investment castings, will invest $25 million in its operation in the City of Hampton, which will create 75 new jobs. Through the investment, Alcoa will scale-up a breakthrough process technology that cuts the weight of its highest-volume jet engine blades by 20 percent and significantly improves aerodynamic performance.
Speaking at today's announcement, Governor McAuliffe said, "Alcoa has been a solid corporate institution in Hampton for 40 years, and this major investment in new technology will ensure the longevity of its operation for decades to come. Advanced manufacturing is thriving in Virginia, and expansions like this help to diversify our economy and grow jobs of the 21st century. This project is a great testament to Alcoa's commitment to Virginia, and the advantages of the Commonwealth's top-rate business environment that helps valued global companies succeed."
"Alcoa is a major employer in Hampton, and this tremendous expansion will add at least 75 new jobs paying well above the prevailing average annual wage," said Maurice Jones, Virginia Secretary of Commerce and Trade. "The company has maintained its operation in Hampton for 40 years, despite economic changes over the decades, and we are proud to boast this significant corporate partner to the Commonwealth on our roster."
Alcoa Power and Propulsion serves the aerospace, defense, energy and industrial markets, and its products are primarily used in jet engines and industrial gas turbines. Additional value-added products and services include hot isostatic pressing, specialty coatings, research and development, supply chain management, specialty tools, molds, and machinery. With 25 production facilities, Alcoa Power and Propulsion employs approximately 8,500 people worldwide.
A global leader in lightweight metals engineering and manufacturing, Alcoa innovates multi-material solutions that advance our world. Its technologies enhance transportation, from automotive and commercial transport to air and space travel, and improve industrial and consumer electronics products. The company enables smart buildings, sustainable food and beverage packaging, high-performance defense vehicles across air, land and sea, deeper oil and gas drilling and more efficient power generation. Alcoa pioneered the aluminum industry over 125 years ago, and today, its 60,000 people in 30 countries deliver value-add products made of titanium, nickel and aluminum, and produce best-in-class bauxite, alumina and primary aluminum products.
"We are deploying a state-of-the-art technology that will significantly improve the performance of some of the best-selling jet engines in the world," said Alcoa Chairman and CEO Klaus Kleinfeld. "This technology and investment further demonstrate how Alcoa is executing on our strategy to aggressively capture demand in the fast-growing aerospace market."
Commenting further on the expansion, Mike Pepper, President of Alcoa Power and Propulsion said, "Alcoa's investment in Hampton builds on a positive, 40-year track record, and reinforces our on-going, collaborative relationship with both the Commonwealth and the City of Hampton."
The Virginia Economic Development Partnership worked with the City of Hampton to secure the project for Virginia. Governor McAuliffe approved a $200,000 grant from the Governor's Opportunity Fund to assist Hampton with the project. The Governor also approved a $450,000 performance-based grant from the Virginia Investment Partnership program, an incentive available to existing Virginia companies. The company is eligible to participate in the Virginia Enterprise Zone Program, administered by the Virginia Department of Housing and Community Development. Through its Virginia Jobs Investment Program, the Virginia Department of Small Business and Supplier Diversity will provide funding and services to support the company's training and retraining activities
"Alcoa has been a longtime anchor employer in the City of Hampton. I am extremely pleased that Alcoa chose to expand in Hampton by adding a new advanced manufacturing product line that will generate high-paying jobs," said Hampton Mayor George Wallace. "Hampton is an excellent city for new and expanding businesses. We are proud of our highly skilled workforce, friendly neighborhoods, excellent schools and quality of life that is incomparable."