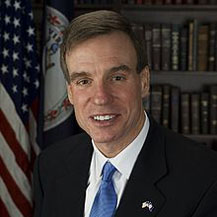 U.S. Sen. Mark Warner, along with 32 Democratic senators, filed an amicus brief with the U.S. Supreme Court on the need to protect women's access to affordable birth control.
The brief was filed ahead of next month's arguments in the consolidated cases of Zubik v. Burwell, yet another attempt by some employers to interfere with women's access to health care by denying the women and their families insurance coverage for birth control.
"The Administration's accommodation for employers under the Affordable Care Act strikes the right balance between respecting religious beliefs and providing women access to affordable birth control. As a result, women across the Commonwealth have access to affordable birth control and are empowered to make their own decisions about health care, without interference from their bosses," said Sen. Warner. "However, next month, the Supreme Court will hear yet another challenge to women's access to health care. I was proud to join my colleagues in the House and the Senate in urging the Supreme Court to make the right decision to protect women and families, while also respecting employers' religious liberties."
You can read the full brief by clicking here.