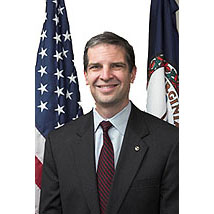 Mark Obenshain isn't "going anywhere," but he's also not running for governor.
The Harrisonburg state senator confirmed via Twitter reports from earlier in the day on Monday that he will not be running for governor in 2017.
Obenshain had been considered a top contender for the 2017 Republican gubernatorial nomination after his near-miss race for attorney general in 2013, which ended with a narrow loss to Democrat Mark Herring.
Herring announced earlier this month that he will seek re-election to the attorney general post in 2017, leaving the path to the 2017 Democratic Party gubernatorial nomination wide open for Lt. Gov. Ralph Northam.
Obenshain's announcement clears the pathway for Ed Gillespie, who lost by thismuch to U.S. Sen. Mark Warner in a surprisingly tight 2014 Senate race.
Former attorney general and 2013 GOP gubernatorial nominee Ken Cuccinelli is also considered a contender for the 2017 Republican nomination.
Obenshain is running for re-election to the State Senate in the 26th House District in the Nov. 3 general election. Democrat April Moore is challenging Obenshain in the 26th, which includes Harrisonburg and parts of Rockingham County, Shenandoah County, Page County, Rappahannock County and Warren County.
– Story by Chris Graham