Shakespeare's Love's Labour's Lost joins Peter and the Starcatcher and Much Ado about Nothing in the American Shakespeare Center (ASC) Summer/Fall Season at the Blackfriars Playhouse in early July.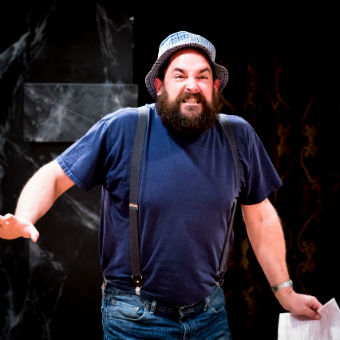 The King of Navarre (Greg Brostrom) and his three "schoolmates" are ripe for an education in love from the Princess of France (Shunté Lofton) and her three ladies. Joining the lovers is a gloriously goofy troupe of clowns, including the love-warrior Don Armado (Chris Johnston) and the lust-sick rogue Costard (David Anthony Lewis), who ardently pursue the affections of a winsome country maid – and who perform an unforgettable pageant for the royals. This giddy and extravagant romantic comedy is Shakespeare's most exuberant wordfest – a joyful carnival of love, loss, and hope.
"The heart of this 'wittie and pleasant comedie' beats with Shakespeare's linguistic brilliance and comic genius. In a play full of words, his characters live for wordplay," says Matt Radford Davies, who makes his ASC directorial debut with Love's Labour's Lost. "In an age when news is fake and facts have alternatives, Shakespeare's agile comedy offers a timely reminder that words matter and that our word is our bond."
Love's Labour's Lost features Allie Babich, Lauren Ballard, Greg Brostrom, Allison Glenzer, Josh Innerst, Chris Johnston, David Anthony Lewis, Shunté Lofton, Benjamin Reed, Tim Sailer, Christopher Seiler, and René Thornton Jr.
Love's Labour's Lost opens July 7 at the Blackfriars Playhouse. Pay-what-you-will performances are on July 7 and 9. Pre-show lectures are on October 4 and 19. Actor talkbacks occur after every Thursday night performance. Best seats start at $54 on weekends. Residents of Staunton, Waynesboro, and Augusta County can take advantage of $18 mid-week local rush tickets on Wednesday and Thursday night performances. Military, AAA, senior, and student discounts are available. Tickets and more information are available at www.americanshakespearecenter.com or by calling the box office at 1.877.MUCH.ADO.