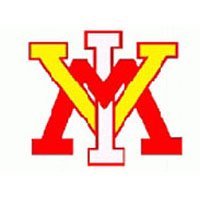 The VMI Keydets got the tying or go-ahead run to the plate four times in their last two at-bats, but the late rally fell short as VMI was edged by the Longwood Lancers, 6-4, in Big South baseball action Friday at Gray-Minor Stadium in Lexington, Va. The result evened the series at one game apiece.
Trailing 6-2 in the eighth, VMI (21-15, 9-8 Big South) pushed across a run on Cameron Walter's RBI single to cut the deficit to three. David Geary followed with a single, bringing up Thomas Stallings as the tying run. Stallings reached on a fielding error by third baseman Brandon Harvell, allowing Walter to score and Will Connerley to hit as the go-ahead run. Connerley grounded out to shortstop on a very close call that was heavily disputed at first base by the VMI coaching staff, ending the inning.
The Keydets then brought the tying run to the plate twice more in the ninth against Longwood (15-24, 5-12 Big South) reliever Aaron Myers. Jordan Tarsovich and Eric Mayers hit with one on, but were retired on a pop-up and strikeout, respectively, to end the game.
Longwood led from the third batter of the game on, helped by eight strong innings from Brandon Vick. Vick (4-4) allowed two earned runs in his outing, striking out eight without issuing a walk. He threw 135 pitches in the game. Myers, Longwood's scheduled starter for Saturday's series finale, picked up the save with a shutout ninth, while Connor Bach (2-6) took the loss after being charged with six runs in 6 1/3 innings.
The Lancers jumped ahead quickly, as Colton Konvicka led off the game with a bloop double to right. C.J. Roth sacrificed him to third, and Brandon Delk followed with a RBI single for a 1-0 Longwood lead. Kyri Washington then singled to left and moved to second on a throw to third, as Delk slid in under the tag to put two runners aboard. Matt Dickason doubled them both home for a 3-0 Longwood lead.
The Keydets got a run back in the bottom half, thanks to a two-out single by Walter that scored Tarsovich, who had reached on an error. VMI then cut the lead to one in the third, thanks to Mayers' fourth home run of the season, a drive to straightaway left field that made it a 3-2 game.
That was as close as the home team would get, however, as Harvell answered with his first collegiate home run in the fourth inning to make it 4-2, Lancers. Longwood then added two in the seventh on a two-run single by Delk off Rian Ellis, making it 6-2 before the Keydet comeback attempt began in the eighth.
At the plate, Walter and Geary had two hits apiece, with Walter driving in two of VMI's four runs. Delk went 2 for 5 with three RBI's to pace the visitors.
VMI baseball returns to action Saturday, wrapping up its series with Longwood at Gray-Minor Stadium. First pitch is set for 1 p.m.