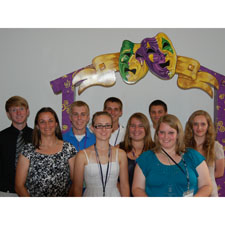 Members of the Stuarts Draft High School SADD Club (Students Against Destructive Decisions) and their sponsor, Martha Mikell, were honored with several traffic safety awards at the 2011 Youth of Virginia Speak Out About Traffic Safety Awards Program on July 28 in Bridgewater.
The YOVASO Awards Banquet, held at Bridgewater College, recognized organizations, individuals, and schools from Virginia that had demonstrated exemplary efforts during the 2010/20011 school year to encourage safe driving among teenagers.
Members of the Stuarts Draft SADD Club took home the Best New Club of the Year Award for their outstanding efforts to promote traffic safety among youth in 2010-2011, their first year as a member of the YOVASO program. The club also won the Distracted Driving Award for best campaign against distracted driving. The club sponsor, Martha Mikell, won for Best New YOVASO Sponsor of the Year Award for her outstanding support and guidance to the club.
Stuarts Draft SADD has a "phenomenal group of students and their hard work and dedication has earned them many achievements throughout the 2010/2011 school year," stated Morgan McCarty, YOVASO program development coordinator. "Their community has been impacted in numerous ways through the many traffic safety events and activities they sponsored. Some of these activities include placing a prom safe driving message on a cow, organizing a mock car crash, sponsoring a high-tech distracted driving simulator to discourage texting and driving, holding seat belt checks to encourage buckling up, and participating in multiple state and national safe driving campaigns."
McCarty noted that Stuarts Draft won several safe driving campaigns this year, including YOVASO's "Save Your Tail-Gate, Buckle Up" Campaign, and YOVASO's "Take Action, Don't Be A Distraction" Campaign. They also won the National Act Out Loud Campaign sponsored by the National Organizations for Youth Traffic Safety.
"This is an exemplary club that demonstrates a lot of enthusiasm and commitment to this important cause," said Mary King, YOVASO program administrator. "We are very proud of their efforts this year to promote safe teen driving."
Sixteen other individuals, schools, and students also took home awards during the annual YOVASO Awards Banquet. Col. Steven Flaherty, Superintendent of the Virginia State Police, thanked the recipients in his keynote address for their important role in the prevention motor vehicle crashes and fatalities on Virginia roads.
YOVASO is a statewide youth leadership program for Virginia high school and middle school students. The organization, which has 88 member schools, is administered by the Virginia State Police Association and funded by a grant from the Virginia Highway Safety Office.