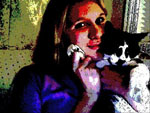 Edited by Chris Graham
[email protected]
 
A local student is among 10 finalists in a Washington Post high-school photo contest.
Anwyn Cook's photo "Reflection in Creek" is among the finalists for the contest open to students in Virginia, Maryland and Washington, D.C.
Cook, 15, is a ninth-grade student at Stuart Hall in Staunton.
You can view the photos and cast your vote for the best here: http://postfun.washingtonpost.com/post/entry/high-school-photo-contest-voting?hpid=talkbox1.
Unlike with "American Idol," you can only vote once.