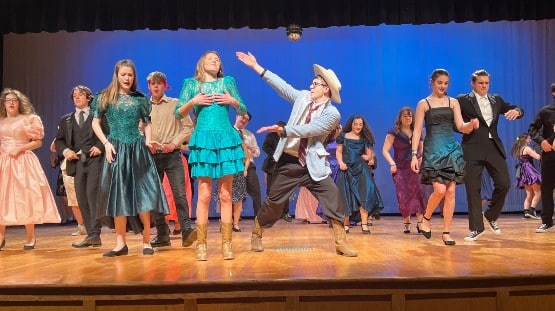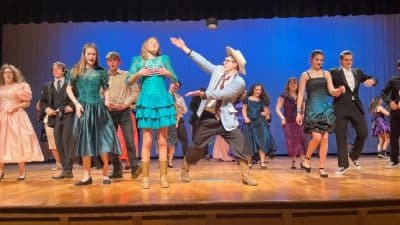 Stuarts Draft High School presents the stage adaption by Dean Pitchford and Walter Bobbie of "Footloose" this weekend.
The adaption is based on the original screenplay by Pitchford with music by Tom Snow and lyrics by Pitchford. Additional music is by Eric Carmen, Sammy Hagar, Kenny Loggins and Jim Steinman.
"Footloose" is the story of the power of music and dance, based on the 1984 hit movie. This 1980s musical follows city kid Ren McCormack as he and his mother move to a small town where dancing is prohibited. The town authority is Rev. Shaw Moore, who has prohibited dancing as a form of expression and enjoyment, after a personal tragedy.
Ren falls in love with the Reverend's daughter, and they along with their friends, force the town to face the past and rebuild. "Footloose" deals with right and wrong, loss and redemption, family and friendship while taking audience members on a musical journey that highlights the importance of dance as freedom and expression.
Stuarts Draft High's cast and crew of more than 50 students, includes TJ Barnard as Ren McCormack, Olivia Staruch as Ariel Moore, Isaac Martin as Rev. Moore, Wyatt Bussey as Willard Hewitt, Alandra Nice as Rusty, Cameron Lindley as Vi Moore, and Devin Erbaugh as Ethel McCormack.
Performances will be at the high school at 7 p.m. on Thursday, March 9, Friday, March 10, Saturday, March 11, and at 3 p.m. on Sunday, March 12.
Tickets are $15 for premium seats, $12 per adult and $10 per student, and are available online. For more information, call 540-946-7600.