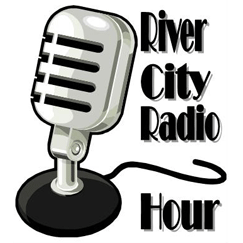 Because the fellowship hall at the Main Street United Methodist Church is unavailable on the third Friday of the January, the River City Radio Hour will move to Friday, January 23.
Even with the dip in temperature and the change of date, the January edition of the Radio Hour promises to be one not to be missed.  Besides the Radio Hour regulars, the Boogie Kings and Marsha Howard, the performance will feature singers Brian Holsopple and Susanna Rosen.  The second chapter of Tales from Rose Hall and a new Richard Adams' serial, The Sally Shorter Short will complete the 7:30 performance.
The January Radio Hour will be the first solo performances by Brian Holsopple and Susanna Rosen in the eight years of the long-running production.  Brian is a veteran of the many stages throughout the Valley as well as a former radio personality.  While continuing his career as an actor and singer, he has become an award-winning reader for a long list of recorded books. Susanna is the lead singer in ZuZu Hot Five for which her extensive collection of 78s and sheet music provides the inspiration for the joyous jazz combo.  She has toured with The Alex Caton Band, is a former member of ACME Swing Mfg. Co., is a founding member of the all-girl jazz quartet, Broadband, and the '20s trio Five Foot Two.
January will mark the return of Tales from Rose Hall.  In the serial's second chapter, the Valley Rangers muster in downtown Waynesboro and march off to Harper's Ferry as Virginia enters the Civil War.  It is April, 1861, and success for the young enlistees seemed assured.  The serial is sponsored by Willow Oak Plaza that occupies the land where Rose Hall stood.
The Sally Shorter Short is another creation of the fertile mind of Richard Adams.  Adams doubles as the leader of the Boogie Kings and as the Radio Hour's inspired writer.  His Basic City Boys and Flushing Potter scripts are matched by his fanciful commercials.  The Sally Shorter Short opens a new set of comic possibilities.
Rounding out the evening's entertainment will be The Boogie Kings with William Hayes on keyboard and J. T. Fauber on percussion with Richard Adams on every other instrument.  Marsha Howard who hit a 1000 at the December Radio Hour will swing again for a home run with her latest set of jokes.  The popular sing-a-long will end the show.
The merchant of the month is Waynesboro's newest downtown business, Twice as Nice.
Admission to the January 23rd River City Radio Hour is Pay-What-You-Will at the door with open seating.  There are no advanced reservations.