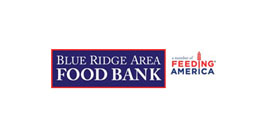 The Blue Ridge Area Food Bank is part of a national movement to raise awareness and take action to fight hunger in America. September is Hunger Action Month, and today marks the launch of hunger-fighting activities and hunger awareness initiatives in the community.
Throughout the month, Feeding America's nationwide network of more than 200 food banks, including the Blue Ridge Area Food Bank, is working to engage citizens to take action through the 30 Ways in 30 Days campaign. Individuals are asked to pledge their way to make a difference, and take part in the fight against hunger in America. In addition, throughout the month, there will be doable, daily "ways" to take action posted on the Hunger Action Month website thirty days, thirty featured ways along with many additional suggestions for getting involved.
Nationwide, more than 49 million Americans suffer from food insecurity. But hunger's impact is felt by many more than the millions living with food insecurity: hunger impacts child development, health and wellness, education, workforce development – our general welfare as a nation. It is also an issue right here in our community, and at the local level, the Blue Ridge Area Food Bank works to combat hunger and aid the 59,000 people seeking food assistance right here in the Central Shenandoah Valley.
Throughout September, there will be opportunities to get involved. These opportunities will range from social media initiatives to events, family activity suggestions, and ways to volunteer or support the work the Blue Ridge Area Food Bank does every day.
National sponsors of Hunger Action Month include Kraft Foods, Macy's, The Cheesecake Factory and United Airlines.
Individuals who want to learn more, find a 30 Ways in 30 Days calendar, or take a My Way Pledge can visit the www.brafb.org.
 
 
Edited by Chris Graham. Chris can be reached at [email protected].