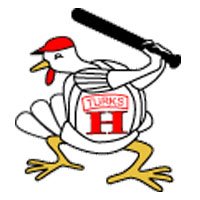 Jesse Baker's walk-off RBI single down the left field line gave the Harrisonburg Turks a 4-3 win over the Strasburg Express after 13 innings of baseball on Friday night.
Harrisonburg pitcher Logan Onda threw six innings of relief, starting in the 8th, allowing only one run on four hits.  The reliever's seven strikeout performance allowed the Turks to put together the winning run in the 13th.
Thomas Smith doubled to give the Turks a base runner with one out in the 13th.  After a Matt Rose intentional walk, an Eric Kalbfleisch flyout moved Smith to third.  Brandon Gold walked before Baker, who came into the game as a pinch hitter, lined a shot past the third baseman to end the game.
The game entered extra innings tied at 2-2 after Smith's 2 RBI double in the 7th inning tied the game for the Turks.  Each team tallied a run in the 10th inning, Strasburg from a Howard Joe sacrifice fly and Harrisonburg from a Baker RBI single, to keep the game tied at 3-3.
After being shut out 10-0 the previous night, the Turks' win improves their record to 5-5.  Strasburg falls to 3-6 with the loss.  The Turks return to Veterans Memorial Park on Saturday night to host the Staunton Braves at 7:30 p.m.