One of the strongest fields in golf will descend on The Old White TPC Course when the 2014 Greenbrier Classic is held June 30-July 6, at The Greenbrier, America's resort.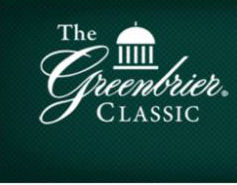 The field for the fifth annual Classic will have even more on the line this year as they will now also battle for a spot in The Open Championship.
The R&A announced today that a new international qualifying series involving events on the world's leading golf tours, including The Greenbrier Classic on the PGA TOUR, is being introduced for The Open Championship which takes place at Royal Liverpool (Hoylake) from 13-20 July, 2014.
The qualifying places available for The Greenbrier Classic will be given to the four leading players, not otherwise exempt, who finish in the top 12 and ties at the completion of tournament play.
"It is an honor and a privilege to be one of only three tournaments selected to represent the PGA TOUR within the new Open Qualifying Series," said Jim Justice, chairman and owner of The Greenbrier. "The tournament's participation in the Series will only help to increase the caliber of players in what is already one of the most competitive fields on TOUR and add to the excitement of the event for our fans."
The Open Qualifying Series (OQS) will comprise 14 events in nine countries on five continents and will offer players the opportunity to qualify for golf's oldest Major Championship at prestigious events on the PGA TOUR, the European Tour, the PGA Tour of Australasia and the Japan Golf Tour.
Nine qualifying places within the field will be available on both the PGA TOUR and European Tour. Players will be able to qualify for four places on the PGA TOUR at The Greenbrier Classic and AT&T National and one place at the John Deere Classic*. In Europe, players will be able to qualify for three places at the Irish Open, the Alstom Open de France and the Aberdeen Asset Management Scottish Open prior to The Open. For a complete listing of qualifying positions and locations for OQS visit www.randa.org/.
Tim Finchem, the Commissioner of the PGA TOUR, said, "We welcome this initiative from The R&A which will offer qualifying places at three events on the PGA Tour in the lead-up to The Open. This will give the players a clear pathway to secure their place in The Open at three prestigious events and create some added interest as players try to qualify for the world's oldest Major Championship."
For more information about The Greenbrier Classic, please visit www.greenbrierclassic.com. To stay connected with the tournament on social media, follow on Twitter at @GBRClassic (#GreenbrierClassic) and like on Facebook at www.facebook.com/thegreenbrierclassic.  For more information about The Greenbrier, please visit: www.greenbrier.com.