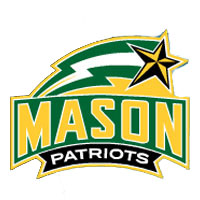 Six Patriots scored in double-figures Saturday afternoon as the George Mason men's basketball team topped Shenandoah, 91-51, in exhibition play at the Patriot Center. The Patriots open the regular season on Friday, November 14 facing Cornell at 7:30 p.m.
Redshirt sophomore Jalen Jenkins led the way for the Patriots with 17 points, seven rebounds and five assists. Erik Copes chipped in 14 points, four rebounds and three steals, while Marko Gujanicic added 11 points to the board with four assists. Newcomers Julian Royal and Trey Porter each contributed double-figures with 10 and 11 points, respectively. Royal led the team on the glass, pulling down nine rebounds as Mason won the edge on glass, 50-28.
The Patriots shot 55.4 percent from the field on 36-of-65 shooting and out-scored the Hornets 62-14 in the paint. Mason forced 20 Shenandoah turnovers, converting the miscues into 26 points as the Patriots scored 40 points off the bench.
Jenkins led the Patriots at the break with 14 points and six rebounds as Mason carried a 51-33 lead into halftime. Behind a 57.6 percent shooting effort in the first half, Mason committed just five turnovers in the period. Shenandoah shot 44.0 percent from the floor led by Jared Carithers with eight points.
Royal and Copes paced Mason's offense in the second half, each contributing eight points to the scoreboard, while Gujanicic added seven points. Freshman Isaiah Jackson pulled down six rebounds in the stanza to lead on the glass with Royal, also with six boards. The Patriots out-rebounded the Hornets, 28-16, in the period.
George Mason basketball opens the regular season on Fri., Nov. 14 with the women's team tipping off at 5 p.m. against Virginia Tech. The men's team will follow the conclusion of the women's game with an approximate start time of 7:30 p.m. against Cornell.