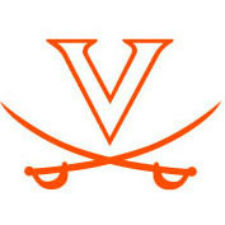 The focus of UVA football fans on their team's 2014 schedule has been on how tough it is, with games against two preseason Top 10 teams, #1 Florida State and #7 UCLA, plus road games at BYU and Virginia Tech, and Louisville, Duke, Georgia Tech, Miami …
But the schedule-makers did do Virginia one favor: five of the first six games are in Charlottesville. Two of them involve UCLA and Louisville, but with Richmond, Kent State and Pitt wrapped around the one road contest, at BYU on Sept. 20, you could argue that the 'Hoos have a shot to pull out a couple of early, confidence-building wins in that front-loaded first-half schedule that could go a long way to defining how 2014 goes.
"We love it here in Charlottesville. It's our home. We love coming out of the tunnel. If we can get some momentum going, who knows what the ceiling can be for this season?" junior defensive tackle David Dean said.
It will be an advantage for Virginia that the team only has to leave the Commonwealth one time between now and Oct. 18, when the Cavs head down to Durham to face Duke.
"We always love playing in Scott Stadium, just having our fans there to support us and to cheer us on," senior wide receiver darius jennings said. "That's always a great feeling, just to have that advantage. We need to build on that advantage and take some momentum into the second half of the season."
Junior defensive end Eli Harold said the run of home games will give coaches a chance to acclimate young players like consensus national Top 10 recruits Andrew Brown and Quin Blanding to the college game.
"Having young guys on the team that aren't used to losing, the Andrew Browns and the Quin Blandings, they're going to play, and they're going to have to produce," Harold said. "Having them come into a system that hasn't been doing well, and to start out losing, would really affect this team in a negative way. You want to start out the season 2-0, 3-0, 2-1, not 1-2 or 0-3. With the schedule that we have, we can't afford to be there. The UCLA game is really going to set the tone for us."
That's the other side of the front-loaded home schedule. If the season does get off to a bad start, there are a glut of road games in the second half of the season that could feel like a death march for coach Mike London and his staff, which enters 2014 on the hottest of hot seats.
"We want to win every game, obviously. That's the plan going into it," said senior defensive back Demetrious Nicholson. "Winning the home games, winning the games we're supposed to win, will let us set the tone early, and give us a chance to get some momentum and carry us on later into the season, rather than trying to dig ourselves out of a hole."
– Column by Chris Graham