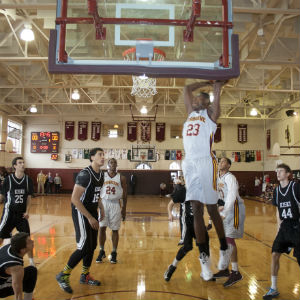 The Fishburne Military School postgrad basketball team has made back-to-back appearances at the National Prep Championships. The 2014-2015 Caissons are aiming to bring home the program's first national title.
"We expect to have another nationally competitive team," said head coach Ed Huckaby, in his sixth season as the founding coach of the FMS PG program.
The strength of his team this year will be on the front line. University of Washington commit Devenir Duruisseau, a 6'9", 235-pounder from Palmdale, Calif., and Pernell Adgei, a 6'7", 220-pounder from Dumfries, Va., who has committed to Loyola, will anchor the post.
The perimeter will be manned by Lyrik Shreiner, a 6'4", 190-pounder shooting guard from Phoenix, Ariz., rated the #9 postgrad recruit nationally by Hoop Scoop, 6'7" swingman Jeremy Harris, a Greensboro, N.C., native who has committed to Coastal Carolina, and Chris Shields, a rangy 6'8", 190-pound three from Martinsburg, Va., who is getting tons of major interest.
Huckaby is looking to his team's early-season tests as an opportunity to "look at a lot of guys and help define roles."
"The guys have really brought in to the culture here, and that has been a pleasure for the coaching staff," said Huckaby, whose team opens play Friday night at 7:30 p.m. at home against the Rio Grande University JV team.
FMS then hosts the Virginia Tech club team in Waynesboro on Sunday at 2 p.m.
The schedule for the remainder of the 2014-2015 season includes games against four of the preseason Top 10 nationally in addition to games against perennial national powers IMG Academy, Fork Union and Kiski School.
More on Fishburne PG basketball is online at www.FishburnePGBasketball.org.