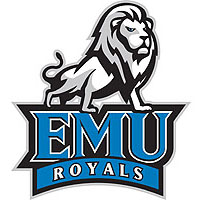 The EMU cross country women are expected to challenge for the conference title this year, according to Coach Jason Lewkowicz and now according to the other ODAC coaches.  The Royals were picked No. 2 in the ODAC women's cross country preseason poll, coming in only behind 2013 champion Bridgewater in the league's preseason poll.
The women earned 70 points in the poll, while BC earned all nine possible first-place votes for a unanimous 81 points.  The Royals received Bridgewater's top vote, as coaches are not allowed to vote for their own teams.  Washington and Lee was behind the women in third place with 65 points.
Junior Hannah Chappell-Dick (Bluffton, Ohio/Bluffton) highlights EMU's returners.  She earned her first NCAA National Championships bid last fall after placing fourth at the ODAC Championships and 12th at the South/Southeast Regionals.  Seniors Lanae Kreider (Harrisonburg, Va./Broadway) andKatie Eckman (Quarryville, Pa./Solanco) were All-ODAC Second Team honorees with Kreider adding All-Region hardware.  Junior Jolee Paden (St. Joseph, Ill./St. Joseph-Ogden) was yet another All-ODAC Second Teamer.
The Royals open their year on August 29 with the ODAC Preview hosted by Guilford College in Greensboro, N.C.