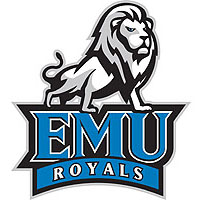 EMU Soccer Men Announce 19-Game Schedule
The emu men's soccer team announced their 2014 schedule today, with the season opener slated for August 29.  The Royals have a 19-game slate lined up, including 10 home games in Harrisonburg.
For the third straight season, the men open up at the UMW Soccer Classic hosted by Mary Washington in Fredericksburg, Va.  eastern mennonite plays the host Eagles as their opener followed by Marymount the next day.
The trend of Capital Athletic Conference opponents continues the following week with the home opener.  emu hosts Southern Virginia on Sept. 3 and Frostburg State on Sept. 6, as their first four opponents are from the CAC.
The men's ODAC opener is a road date at 2013 champion Virginia Wesleyan on Sept. 13.  Their first home conference game isn't until Lynchburg visits on Sept. 27.  The Royals host Guilford College as part of emu Homecoming on Oct. 11, drawing the primetime slot at 7:00pm.  They wrap up the year at home with a huge rivalry game against Bridgewater on Oct. 28.  The ODAC Tournament starts Nov. 1.
eastern mennonite also has home games against Gettysburg, Washington and Lee, Johns Hopkins, Roanoke and Shenandoah.
Coach Roger Mast expects tough competition as he enters his 24th season at his alma mater.
"The 2014 schedule will be challenging," Mast explained.  "In addition to the rigorous ODAC schedule, I anticipate some strong opposition from Johns Hopkins, Frostburg State, Mary Washington, Lebanon Valley, Gettysburg and Ferrum.  We look forward to getting the 2014 season underway."
emu finished 5-13 last fall including 3-8 in the Old Dominion Athletic Conference.  Close games were a staple as they had five losses by a single goal, including two in overtime.
Women's Soccer Team Releases 2014 Slate
A new era in women's soccer will start on August 29, as eastern mennonite will begin their first season under new coach Ted Erickson.  The Royals announced their 2014 schedule today, which includes a perfect split of home and away contests in an 18-game regular season.
emu heads to Baltimore, Md., for opening weekend, playing at Stevenson on August 29 and Goucher the following day.  They return home for three non-conference games in an eight-day stretch, starting with Southern Virginia on Sept. 3.
Their Old Dominion Athletic Conference opener at Washington and Lee on Sept. 13 kicks off a tough span in the middle of the schedule.  After a road game at Ferrum, the Royals return home for three ODAC games against top-level opponents: Randolph, Lynchburg and Roanoke.
Hollins comes to Harrisonburg for EMU's Homecoming on Oct. 11, with the women's soccer game touching off at noon.  The final home game of the year is against Randolph-Macon on Oct. 22.
Much like EMU's men, the Royals wrap up their regular season against Bridgewater College on Oct. 28.  The women play a4:00pm game in Bridgewater, giving fans time to get back to Harrisonburg for the 7:00pm men's side.  The ODAC Tournament opens on Nov. 1.
Of their nine home games, the women also have a nice balance of day/night contests, with four being played under the lights and five starting in the afternoon.  Other home opponents include: Hood, Marymount and Guilford.
Erickson said the 2014 schedule could help the Royals continue their resurgent season from last year.
"Outside of playing some really strong programs this fall," he explained, "we have a nice blend throughout the season of being home and away which I believe can help us to stay fresh and energized as we look to build upon last year's success."
eastern mennonite finished 10-9 in 2013 including 5-7 in the ODAC, giving them their first ODAC Tournament bid since 2010 and most wins in eight years.