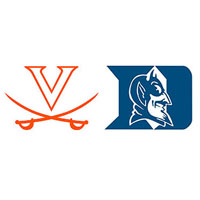 Virginia led Duke 22-0 with 5:49 left in the second quarter. Games aren't won and lost in the second quarter.
The Blue Devils scored in the final minute of the first half to get back to within hailing distance, and then dominated the 'Hoos in the second half in a 35-22 win that only adds fuel to the fire for a UVa. fan base that wants to see fourth-year coach Mike London gone.
Kevin Parks scored on a pair of short runs in the first quarter to put Virginia up 14-0 at the end of one, and added a third on a scintillating 13-yard pass from David Watford to put Virginia up 22-0.
At that point in the game, Virginia had gained 280 yards of total offense and had racked up 16 first downs, while holding Duke to 84 yards of offense and just four first downs.
An Anthony Boone-to-Jamison Crowder 6-yard TD pass with 46 seconds left in the first half pulled Duke (5-2, 1-2 ACC) to 22-7 at the half and started the momentum reversal.
A Ross Martin 25-yard field goal cut the lead to 22-10 with 4:43 to go in the third, and a Brandon Connette 6-yard TD run made it 22-17 at the 2:29 mark of the third.
Duke had a fourth-and-one at the UVa. 47 three minutes into the fourth, and coach David Cutcliffe decided to go for it. Inserting wildcat quarterback Brandon Connette in to take the snap, Virginia sold out to try to stop the run, but Connette play-actioned and found a wide-open Braxton Deaver down the right sideline for a 47-yard touchdown that gave Duke its first lead of the ballgame, after a two-point conversion at 25-22.
Virginia (2-5, 0-3 ACC) drove just outside the red zone before stalling, setting up a 39-yard field-goal attempt by Alec Vozenilek that was good, but negated by a motion penalty on lineman Jay Whitmire.
The subsequent 44-yarder from Vozenilek was no good. Duke took the ball on the ensuing possession and drove 73 yards in nine plays, capped by a 24-yard TD pass from Boone to Deaver, to extend the lead to 32-22.
A
Martin 32-yard field goal at the 2:42 mark put the final points on the scoreboard.
Duke outgained Virginia in total offense 472 yards to 363 yards. From the 5:49 mark of the second quarter on, Duke gained 392 yards of offense, while UVa. had just 83 yards.
Watford ended up 20-for-38 passing for 263 yards, one touchdown and one interception. The sophomore completed 7-of-his-last-19 passes for 76 yards after starting 13-for-19 in the first-half run that pushed Virginia to its big lead.
Virginia hosts Georgia Tech next Saturday.