Duke converted just one third down. It was a fourth-down conversion that sealed the deal against Virginia Tech.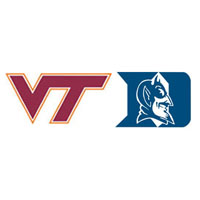 The Blue Devils took a 13-0 third-quarter lead in Lane Stadium and then held off a late Hokie rally to post perhaps the biggest win in school history, 13-10, on Saturday.
The win was all the more improbable after a look at the stats. Virginia Tech (6-2, 3-1 ACC) nearly doubled Duke in total offense and forced five Blue Devil turnovers, including four interceptions thrown by Anthony Boone, who completed nearly as many passes to Hokie defenders as he did to his own teammates.
But Virginia Tech committed four turnovers itself, all on interceptions thrown by senior quarterback Logan Thomas.
The win was the first road victory for Duke (6-2, 2-2 ACC) over a ranked opponent since 1971. It also ended a 12-game losing streak in the series for the Blue Devils dating back to 1982.
Duke led 6-0 at the half on a pair of 50-plus-yard field goals by Ross Martin. The Blue Devils extended their lead to 13-0 at the 6:15 mark of the third quarter on a Boone 9-yard TD run capping a 63-yard drive after Virginia Tech coach Frank Beamer rolled the dice and went for it on fourth-and-one at the Duke 37 and the Hokies failed to convert.
Tech finally got on the board on a six-play, 99-yard drive capped by a 5-yard Thomas TD run that made it 13-7 with 2:47 left in the third.
A Cody Journell 42-yard field goal at the 9:29 mark of the fourth quarter brought the Hokies to within a field goal. Journell missed a 40-yard attempt with 6:02 left that would have tied it.
What turned out to be Virginia Tech's last chance ended when a Thomas pass over the middle was intercepted by Kelby Brown at the Duke 43.
The Hokies D had one more shot to get the game back in Thomas' hands, but failed to stop Brandon Connette on a fourth-and-one at the Virginia Tech 44. The Hokies were out of timeouts, and after a Boone 11-yard run for another first down on Duke's next play from scrimmage, the Blue Devils were able to run out the clock.
The loss drops Virginia Tech from any discussion of a shot at a national-title bid that had been building in recent weeks. The Hokies still have a chance to compete for the ACC Coastal Division championship. Miami, a 24-21 winner at home against Wake Forest on Saturday, is a game ahead of Virginia Tech in the division standings, but the seventh-ranked Hurricanes play at #2 Florida State next week, and then host Virginia Tech on Nov. 9.
Tech travels to Boston College next week.
Game Notes: Virginia Tech gained 387 yards of total offense (214 passing, 173 rushing). Duke gained 198 yards of total offense (107 passing, 91 rushing). Logan Thomas was 21-for-38 passing for 214 yards and also ran for 101 yards on 24 carries.