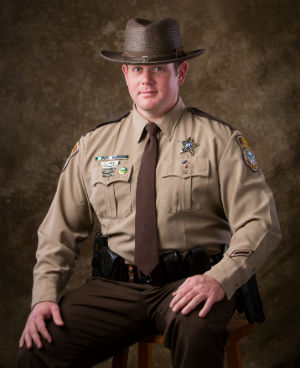 In six weeks, Donald Smith, 33, will be sworn in as the second-youngest sheriff in Virginia. Smith, elected sheriff in Augusta County on Nov. 3, is busy trying to build and, to a degree, rebuild as Jan. 1 approaches.
"The main order of business is trying to get the sheriff's office back on track," Smith told the Augusta Free Press in an interview this week. We've been through a State Police investigation that has been ongoing for the past six months. We've been through a nasty campaign. And it was nasty. You've got three candidates that were inside. You've got deputies and staff who supported each of those candidates. We've got to come back together now."
A 12-year veteran of the Augusta County Sheriff's Office, Smith won a tough four-way race featuring fellow deputies Derek Almarode and Todd Lloyd and one outsider, Neil Kester, with significant law-enforcement experience.
It was an uphill battle in many ways for Smith. Kester got the lone local-newspaper endorsement, and Almarode had the endorsement of the current sheriff, Randy Fisher.
"I couldn't have done this without the support of a lot of people," Smith said. "I ran as an independent, it was a four-way race, and it was a grueling fight. I won because it was God's will, number one, and because the people came out and supported me, they backed me. I had their support, and that's what carried the day."
Smith called the election and its aftermath "a very humbling experience."
"The amount of support that I had, the amount of people who donated their money, their time, from the parades to the meet and greets, they followed me, they supported me. And that meant everything," Smith said.
The next order of business for Smith is to turn the attention from county residents in the sheriff race – more than 18,000 voters turned out on Nov. 3, more than 40 percent of the 45,000+ registered voters in Augusta – into momentum for positive action in the sheriff's office.
"I want all those people who voted to stay interested in the sheriff's office, to stay interested in what's going on," Smith said. "Keep your attention on what we're doing, and hold us accountable. Make sure we're doing what we're supposed to be doing. And if we're not, tell us. That's how this needs to work."
Smith has been working with Sheriff Fisher on the transition of administrations to try to make that as seamless as possible.
"The first step for me is trying to harness the knowledge of the current sheriff, and working with him on the comp board budget, the county budget," said Smith, adding another area of focus that you wouldn't think of right off the top.
"All the mutual-aid agreements need to be updated. We have 16 mutual-aid agreements with agencies across the county. His signature expires on Dec. 31. We're trying to make it seamless so that 12:01 on Jan. 1, those agreements are valid again."
Smith has begun meeting with employees to discuss his ideas for how the sheriff's office will move forward, and to get their feedback one-on-one.
"I truly believe that our sheriff's office will grow, will improve. I'm not interested in just maintaining the status quo. I'm just not interested in that," said Smith, whose campaign platform included two key provisions, aimed at examining the current patrol shifts to make sure that deputies are on the road when they're most needed, and improving the overall physical fitness of the office.
"Physical fitness needs to be an emphasis in police departments and sheriff's offices across the country. Period. End of story," said Smith, who feels that to get there, "you have to change the culture."
"It isn't going to be easy, and it isn't going to be something that's done in six months, a year, two years, even. But you have to change the culture," Smith said. "For new recruits, they're going to face a physical-fitness test when they come in the door. I can't expect deputies who have been here for 30 years to go out and do the same thing that guys coming in the door are, but I'm going to expect the new people on staff to raise the level of fitness and start from there."
Smith has begun talking with staff about changing the approach to patrol shifts. "We're looking at creating a power shift. I want deputies on the road between two and ten," Smith said.
But that's still in the development stage, Smith said. "I'm not going to go in day one and change everything," he said. "We have to get through the holidays, the budget time. I can't just step in on Jan. 1 and say, Everything's changing. I'm taking everybody's perspectives and concerns into consideration, and once we get a handle on what we can do, we're going to make adjustments and do what's best for Augusta County."
The world doesn't change on Jan. 1. That's the important thing to remember. Smith vowed as a candidate to roll up his sleeves and get to work to get the sheriff's office back on track, and six weeks out from being sworn in, he's already following through on that promise.
"What I want people to know about me is that I don't myself on any kind of pedestal," Smith said. "I'm not somebody that's out of reach. I'm there to work hard and to help people. That's why I ran for sheriff. I'm not going to hide behind a desk. You're going to see me, and you're going to see that I'm working hard for the people of Augusta County."
– Story by Chris Graham