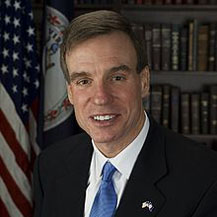 Today, a package of bipartisan healthcare provisions introduced by U.S. Sen. Mark R. Warner (D-VA), a member of the Senate Finance Committee, were included in a funding bill passed by Congress and signed by the President. Among the five bipartisan legislative proposals is the CHRONIC Care Act, legislation aimed at improving health outcomes for Medicare beneficiaries living with chronic conditions.
"It is no surprise that this package of cost-effective, evidence based proposals received broad bipartisan support," said Sen. Warner. "These commonsense fixes will streamline the way Medicare patients living with chronic conditions receive care, helping those with diabetes or renal disease access high quality and affordable healthcare services."
Bipartisan legislation passed by Congress today includes:
Creating High-Quality Results and Outcomes Necessary to Improve Chronic (CHRONIC) Care Act – This bill will permanently reauthorize and strengthen Medicare Advantage Special Needs plans to ensure that Medicare beneficiaries with chronic conditions or other significant health needs have continued access to quality care that is tailored to their personal needs. It also expands telehealth services offered through different providers of care that will benefit seniors in rural areas and increase access to primary care services and telestroke care. In addition, it extends the proven "independence at home" model that allows seniors to receive care from primary care teams, thereby decreasing hospital readmissions and allowing seniors with multiple chronic conditions to receive care in their own home.
Medicare Home Infusion Therapy Access Act – This bill will create a transitional reimbursement for Medicare home infusion services. While legislation sponsored by Sen. Warner to restructure the way Medicare beneficiaries who need intravenous medication receive their infusion treatments from the comfort of their home has already passed Congress, this bill properly aligns the change in payments with the new benefit, avoiding a four-year gap during which patients would have challenges securing these life-saving treatments. Companion legislation was introduced in the House of Representatives.
Dialysis Access Improvement Act – This bill will allow dialysis providers to seek outside accreditation from organizations approved by the Centers for Medicare and Medicaid Services (CMS) to participate in the Medicare program, streamlining the accreditation process for dialysis facilities and improving access for Medicare patients with end-stage renal disease (ESRD). Companion legislation was introduced in the House of Representatives.
Protecting Access to Diabetes Supplies Act – The bill will strengthen patient protections included in the Medicare National Mail Order program for Diabetic Testing Supplies (DTS), ensuring that Medicare beneficiaries are able to continue accessing familiar diabetes supplies and test systems through DTS. Companion legislation was introduced in the House of Representatives.
Medicare Orthotics and Prosthetics Improvement Act – This bill will apply accreditation and other standards for orthotics and prosthetics, such as prosthetic limbs, under Medicare, helping to guarantee access to quality products for beneficiaries. Companion legislation was introduced in the House of Representatives.