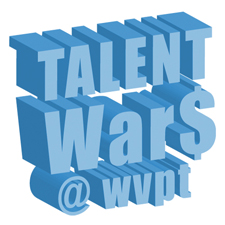 WVPT has entered its last month of fundraising through TALENT WAR$ with more than $1,800 donated through more than 40 competing talent videos.
The station's first ever interactive, online, video talent contest and fundraiser, TALENT WAR$ is offering $6,000 in cash prizes. Viewers can vote for their favorite video by donating to WVPT until Jan. 3., after which the winners will be announced.
"TALENT WAR$ is one creative way that WVPT is responding to try and make up for hundreds of thousands of dollars in state funding cuts this year," said David Mullins, president and general manager of WVPT.
Mullins said the competition, which harnesses the power of social media, is a way to spotlight the talents of WVPT viewers and provide a fun way for people to support the station.
"The competition is still wide open—so, really, all of the contestants have a chance to win," he said."We are encouraging our viewers to participate and encouraging contestants to promote their own videos to receive votes."
Viewers can simply visit the secure website, http://talentwars.wvpt.net, to view the videos, select their favorite and "vote" by making a donation to WVPT.  Every dollar "donated" equals one "vote" for the video. The three participants with the most $1 "votes" by the conclusion of the contest will win a first place award of $3,000, a second place award of $2,000 and a third place award of $1,000.
Currently, more than 30 contestants have uploaded their talent videos, from live performances and music videos to animated shorts. Most of the top contenders are from the Harrisonburg area, but votes are coming from all throughout Virginia and even across the country.
JanieFrazier, Port Republic:  Janie Frazier, a senior at Eastern Mennonite High School, has held the most votes the entire competition. Her video, "Back to School!", a stopmotion animated short featuring a backpack and school supplies come to life, took more than 24 hours to complete. Although her video has raised nearly $300, Janie said she didn't ask friends and family to support her video until recently. "It's really encouraging that people I don't even know like my video so much that they've contributed their own money," she said.
SafeRides,James Madison University:  SafeRides, a student-run volunteer organization at JMU dedicated to preventing drunk driving, is climbing to the top with a video of a flash mob 50 of its members performed in the spring. The nonprofit, which has provided over 30,000 safe rides home since 2007 and funds its operations solely by donations, is hoping to add a vehicle to its fleet next year. "By raising money for WVPT, the station is also providing a way for us to possibly raise money for our own organization," said Chet Craft, fundraising director of SafeRides. "We're a service for not only JMU but also the Harrisonburg community, because we help keep its drivers safe."
Mitch Derrow, Singers Glen:  A junior at Eastern Mennonite University, Derrow is in second place with his performance of "Missing You," one of the many songs he has composed. Although he wants to finish school before gaining a following, he said he is grateful for the support he has received from his community. "I bought my first guitar when I was eight," he said. "I've practiced six and half hours per day for the last three years while taking classes and working to pay my way through college."
V.O.I.C.E., Harrisonburg:  A vocal ensemble performing semiannual charity concerts, Vocalists Offering Inspirational Community Enrichment (V.O.I.C.E.) is climbing to the top with its rendition of "Rehab" by the late Amy Winehouse from its "Glee"-themed performance in June to benefit the Shenandoah Valley Autism Partnership. "If awarded a cash prize, we would use it as operational support for 2012. We are solely funded by our singers who pay dues, generous donations from fans, and advertisements in our programs," said James Kiser, founder and artistic director. "That way we can give away 100 percent of the money we raise."
To enter TALENT WAR$ orview current entries, visit http://talentwars.wvpt.net.