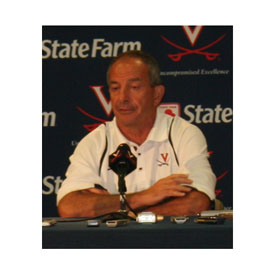 Jim Reid is gone from the University of Virginia after his defense finished fourth in the Atlantic Coast Conference in total defense.
Bill Lazor, meanwhile, continues to be employed after his UVa. offense finished eighth in the conference in total offense and ninth in scoring offense.
Yeah, that sounds about right.
Reid's group did give up 28.9 points per game, but a lot of that had to do with the anemic, turnover-prone offense (26 giveaways, third-most in the ACC) and woeful special teams (UVa. was sixth in punting and 12th in kickoff coverage) giving opposing offenses plenty of short fields to work.
Lazor, for his part, has spent three underwhelming seasons in Charlottesville that have been marked by the inability of the coaching staff to settle on a #1 quarterback. The departure of Michael Rocco, who started 21 games in the past two seasons, sharing time with David Watford in 2011 and with Phillip Sims in 2012, doesn't take care of that issue, as there will be a battle in the spring between Watford, Sims and redshirt freshman Greyson Lambert for the starting job heading into 2013.
Head coach Mike London should shoulder a major share of the blame for not forcing a final call on Lazor, but then London should also take the heat for not demanding more of his offense or special teams, which never got going under former UVa. great Anthony Poindexter, who was demoted from his role coordinating the special teams but will stay on as the safeties coach.
Credit to London for setting a much higher standard on the defensive side of the ball. Certainly there is room for improvement over there. The 'Hoos simply couldn't figure out Georgia Tech this year in a 56-20 blowout loss in Atlanta after posting a memorable 24-21 upset win over the Yellow Jackets in 2011 in a game that served as a springboard to the surprise 8-5 finish.
But tellingly, after that loss, Reid's group circled the wagons and played better. It was the D that was the difference in the 17-16 win over Penn State in Week 2 and the 33-6 win at N.C. State in Week 9 that ended the six-game midseason losing streak. And the defense more than did its job in the 17-14 season-ending loss at Virginia Tech, which was marked by inefficient play on offense (seven first downs) and special teams (a fake field goal came up short in the third quarter, ending Virginia's last scoring chance).
(And hell, the defense scored half the points put up by the Cavs in the loss, on a third-quarter fumble recovery returned for a touchdown.)
There's a lot wrong with UVa. football, so it was good to see London cleaning house with the aim of getting things right. He needed to fire two of his coordinators. He just made the wrong choice on which the second one should have been.