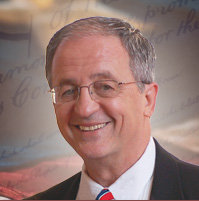 Tea Party Republican Del. Bob Marshall is calling for the impeachment of federal Judge Arena Wright Allen, who ruled this month that Virginia's ban on same sex marriage is unconstitutional.
"Our representatives in Congress and our State Legislatures must stand up for the people of Virginia and America and begin the process to remove judges who violate the will of the people," Marshall wrote in an email to supporters Monday.
The email directed supporters to contact Sixth District Republican Congressman Bob Goodlatte, the chair of the House Judiciary Committee, to pressure him into beginning hearings into the impeachment of Allen, an appointee of President Obama.
"If such actions continue, legislative bodies which serve as representatives of the people, as well as the sovereign voting people themselves, will become irrelevant in our political process," Marshall wrote in the email. "In effect, one judge becomes more powerful than entire state legislatures and the millions of people whom they represent!
"If same-sex marriage proponents want to take down legitimately passed laws and Amendments, (marriage laws have always been state issues), then they should attempt to do so without using an end run against the legitimate legislative process," Marshall wrote.