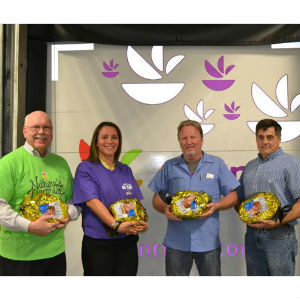 Giant donated 200 hams to the Blue Ridge Area Food Bank in honor of the upcoming Easter Holiday. Since 2009, Giant has donated more than 10,000 pounds of spring hams for hungry neighbors in need.
About the Blue Ridge Area Food Bank
Founded in 1981, the Blue Ridge Area Food Bank is the largest organization alleviating hunger in western and central Virginia. Headquartered in Verona, VA, the Food Bank serves 25 counties and eight cities through distribution centers in Charlottesville, Lynchburg, Winchester and Verona.
The Blue Ridge Area Food Bank distributes nearly 24.8 million pounds of food annually to 118,600 people each month through a network of 208 community partners – food pantries, soup kitchens, shelters, schools, churches and other non-profit groups. The Food Bank is a member of Feeding America, a national food bank association that supports 202 food banks across the United States.
For more information, visit www.brafb.org.