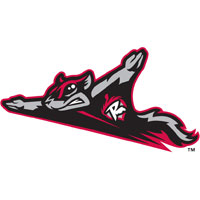 The Binghamton Mets (3-0) claimed their first Eastern League title in 20 years with a walk-off, 2-1, win over the Richmond Flying Squirrels (0-3) on Friday night at NYSEG Stadium.  The win completed a three-game sweep and gave Binghamton their first championship since 1994.  The Squirrels were bidding for their first franchise title.
With the ballgame tied, 1-1, into the bottom of the ninth inning, the Squirrels brought in lefty Steven Okert.  He recorded the first out, but Xorge Carillo yanked a single into left field.  Wilfredo Tovar followed and moved the winning run into scoring-position with a single shoved to right field.  Gavin Cecchini came on to pinch-run for Carillo.  Jayce Boyd was sent up as a pinch-hitter.  He delivered the title to Binghamton by crunching a liner to right-center field.  The single plated Cecchini and sparked a raucous celebration behind second base.
Lefties Steven Matz and Ty Blach traded zeroes for the first three innings.  Matz added a fourth scoreless inning, but Blach couldn't hold serve in the bottom of the frame.  Travis Taijeron led off with a single on the infield.  Blach recorded the first out, but with the runner going, Brandon Nimmo sent a ground ball that deflected for a hit off the second-base bag.  Taijeron moved to third on the play.  Xorge Carillo then made it 1-0 for the B-Mets with a sacrifice-fly to center field.
Matz held the Squirrels without a hit through seven innings.  He also recorded the first out of the eighth.  However, Elliott Blair recorded the first hit for Richmond – a single to right field – and sparked an uprising.  Eliezer Zambrano then pinch-hit for Tyler LaTorre and squeezed a single through the right-side of the infield.  Matz was lifted in favor of righty Hansel Robles.  Robles fanned Tyler Horan – pinch hitting for Blach – for the second out.  However, Daniel Carbonell followed and laced a single into right field.  Blair scored to tie the game, 1-1.
Neither Matz or Blach factored in the decision despite sterling efforts.  Blach was charged with just a lone run on five hits across seven innings.  He did not issue a walk and struck out six.  Matz worked 7 1/3 innings.  He permitted just a lone run on two hits.  He walked two and struck out 11.
Right-hander Cody Satterwhite (2-0) earned the win for the B-Mets.  He worked a scoreless top of the ninth inning. Okert (0-1) endured the loss for the Squirrels.
The 2014 season has concluded for the Squirrels.