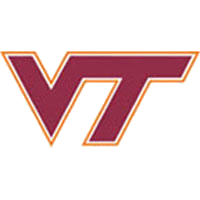 Virginia Tech has played plenty of big games at Lane Stadium over the years. But does it get any bigger than the defending national champ on Labor Day night?
"Coach Beamer has talked about how it's going to be the best environment since he's been there in Lane Stadium. He's really excited about it, which in turn makes us really excited about it. It's fun to see him get all jacked up about it," Hokie quarterback Michael Brewer told reporters this week at the 2015 ACC Football Kickoff.
Adding to the drama is that Virginia Tech is the one that put the one in 14-1 for Ohio State, which recovered from its September home loss to the Hokies to earn the fourth and final spot in the inaugural college football playoff, then beat #1 seed Alabama and #2 seed Oregon to take home the national title.
Coach Frank Beamer called the game "the most anticipated game ever" at Lane Stadium, considering the source a monumental statement.
"We've had a lot of big games at Lane Stadium. The more you win, the more a game becomes important. So over the years, the last few years, we've had a lot of big games in there. But I think from an anticipation standpoint, it is big," Beamer said.
Big game, most anticipated game, but it's also just another game, from the standpoint that, as Beamer noted, "from the standpoint of your overall season, it's a starting point."
"You've got to get ready to play each and every week," Beamer said. "You've got to be ready to play Wake Forest, you've got to be ready to play Ohio State. There's not a difference in your preparation mentally. I'm a big mental guy. What you're thinking is how hard you play, and how well you play, and how important it is this particular Saturday. I think that's a great lesson that will be brought up a lot. You prepare the same way."
That message seems to be sinking in.
"We've got to treat it like just any other game. You can't make one game any bigger than another. That just happens to be the first one, so that's why it's most important," Brewer said.
"Coaches always preach that the next game is the biggest game, just because it's the next one. So we're taking it as if we're just playing anyone else," All-America cornerback Kendall Fuller said. "Of course, there's going to be some anticipation, because it's the first game of the season, so I would expect there to be a lot of anticipation. We're definitely excited for it, definitely looking forward to it, but we're going to treat it just like any other game."
Beamer hopes the game is valuable in the sense of giving him and his staff a good early measuring stick for where the team will be in 2015.
"I think these games are good for your football team," Beamer said. "Number one, your preparation going into the season is probably better because you've had better summer workouts, preseason workouts, even spring practice, because there's something big to look forward to. The only game on a Monday night against the best team in the country. That's one thing.
"The other thing is, you find out a lot about your football team. You can hammer somebody 50-zip, and you don't know a lot more about your team come Monday than you did before you played on Saturday. When you play an Ohio State, if you're deficient in an area, it's going to show up. If you need to work on something a lot better, it's going to show up.
"I think the end result is, you start out in a better position, and you can know quicker what you need to do to get better. So in the big picture, you know better what you need to do for your football program," Beamer said.
– Story by Chris Graham