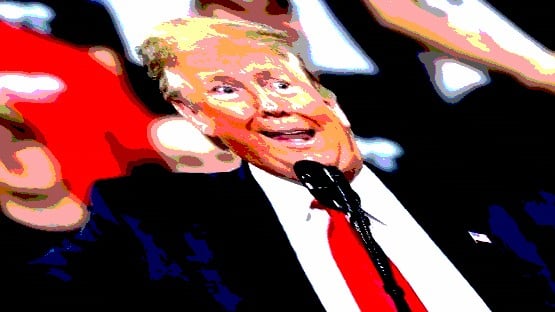 Donald Trump, the former president facing four separate criminal cases involving multiple felony charges, is trying to deflect attention from his legal woes by proposing a harebrained 10 percent tariff on foreign goods.
The idea: to put "a ring around the collar" of the U.S. economy, Trump said on Fox Business.
Well, yeah, that would be one result.
"Donald Trump's plan to impose universal 10 percent tariffs on all imports is idiotic, illegal, and would be a disaster for our economy," said Virginia Democrat Don Beyer, who serves on the House Committee on Ways and Means Subcommittee on Trade.
Trump seems to think his tariff idea would boost U.S. industry and production. A Trump spokesperson, Jason Miller, referred to critics of the proposal as "globalists who push false claims of economic disaster" that "have been proven wrong time and again" in an email to the Washington Post.
"No amount of fearmongering from special interests and establishment hacks in Washington will stop him from defending American workers and fighting to return millions of manufacturing jobs to the USA," Miller said.
If only the world was that easy to figure out.
"Trump is proposing intentional inflation," Beyer said. "If put into practice, this would dramatically raise costs for the American people on a huge number of essential goods and services. No one would be spared from Trump's insane new taxes, the chaos and damage to American businesses and jobs would be catastrophic."