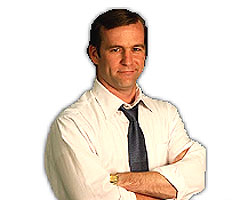 Libertarian congressional candidate Stuart Bain is planning a different kind of campaign fundraiser for later in the week.
"All in for Stuart Bain" will use social media and Internet marketing to raise money for the Bain campaign. The so-called money-bomb campaign also raises issue with efforts by Republican incumbent Bob Goodlatte to ban real-stakes online poker illegal.
Bain is a member of Poker Players Alliance, a national group of poker players formed in opposition to laws like the Unlawful Internet Gambling Enforcement Act, which made online real-stakes poker illegal. Goodlatte sponsored the UIGEA and a similar bill, HR 4411, the Internet Gambling Prohibition and Enforcement Act.
The money-bomb aspect to the fundraising effort works by encouraging supporters to donate within the same narrow time frame and increasing the amount of campaigning during that time – like a short burst of sprinting to get ahead in a footrace.
Bain's money bomb website is www.StuartBain.com.
 
 
Edited by Chris Graham. Chris can be reached at [email protected].