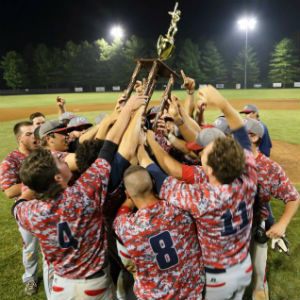 The Waynesboro Generals are repeat Valley League champions for the first time in the team's 62-year history in the VBL, and Augusta Free Press was on hand to help bring the special night of action at Kate Collins Field to the world.
AFP President Chris Graham served as the play-by-play announcer on the team's Internet broadcast of the deciding Game 3 in the Jim Lineweaver Cup, wrapping up his sixth season calling the action for the Generals, who won their sixth Valley League title overall, and second in as many years on the heels of their 2013 championship.
Video of the championship-clinching moment, a walkoff RBI single with two outs in the bottom of the ninth inning by Waynesboro shortstop Mike Marcinko that lifted the Generals to a 7-6 win over the Charles Town Cannons, was shot by AFP vice president Crystal Graham, and the post to the Generals Facebook page of the video has garnered more than 7,700 views on Facebook.
Photographer Mike Miller shared hundreds of photos from the game and the celebration afterward, and crystal graham updated the team website, www.WaynesboroGenerals.net, in the hours after the game with the photos and also updated the site to congratulate the 2014 Valley Laegue champions.
By 5 a.m., more than six hours after Marcinko's game-winning hit, Chris Graham had produced several videos with interviews and game highlights and posted stories to the team website on Marcinko and first-year Waynesboro coach D.J. King.
Augusta Free Press is a full-service website design, graphic design, SEO, marketing, and audio and video production firm based in Waynesboro.
More on what AFP can do for business and nonprofit clients is online at www.AFPBusiness.com.