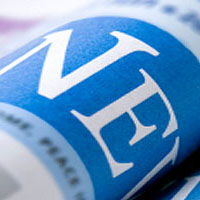 The Central Shenandoah Emergency Medical Services Council (CSEMS) officially launches its recruitment and retention campaign Friday, August 15, at the Rockingham County Fair. The event marks the first time CSEMS publicly unveils its program and introduces its theme, Saving Lives One Volunteer at a Time.
Made possible by a grant provided by the Virginia Department of Health, Office of Emergency Medical Services, the goals of the campaign are to: create awareness among the various communities in the region of the impact and tremendous role that EMS providers play in improving the health and safety of citizens; educate the public about volunteer shortages that many EMS agencies face; and, encourage more people to use their individual skills and talents to volunteer with any of the 62 member agencies. After a thorough proposal process and search completed in February of this year, CSEMS engaged Woodpile Studios and their teaming partner, ConnellyWorks, to help provide strategic and innovative marketing, events and communications services for this campaign.
The Rockingham County Fair is the first of five events where CSEMS will be exhibiting over the coming months in order to engage with community members of the counties that the Council serves. Other events include the Highland County Fair, the Rockbridge Beer & Wine Festival, the Bath County Wings & Wheels Festival, and the Augusta County Fall Foliage Festival Art Show. CSEMS members as well as volunteers from its various member agencies will be on hand to provide free blood pressure screenings, hand out information about their volunteer needs and instruct potential volunteers through a basic online sign-up process.
In addition to the recruitment and retention drives, other components of the campaign include a new web site (joinems.org), development of a regional informational presentation about the business of EMS, and various public education materials, all of which feature actual members of various CSEMS member agencies. The Virginia Office of EMS is monitoring this campaign and its outcomes closely—first to determine how successful it is in order to determine if this is a model that can be used statewide and secondly to ensure limited Rescue Squad Assistance Fund (RSAF) dollars are wisely spent.
"CSEMS and its member agencies are very excited about this campaign and look forward to meeting all potential new volunteers at one or more of these events. We encourage everyone from all walks of life, regardless of age or experience to stop by the exhibit in their area and find out more about how they can contribute to EMS" said Executive Director, Chad Blosser.