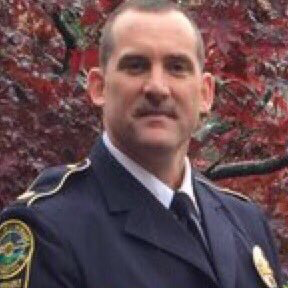 Albemarle County has named Ron Lantz as Chief of Police effective June 1, 2016.
Currently, Major Lantz serves as Albemarle's Deputy Chief of Police where, since 2012, he has assisted the Chief of Police in planning and directing the many activities of the Albemarle County Police Department including providing supervision for 115 of the 129 sworn officers in the functional areas of patrol, traffic, school resource, crime prevention, and animal control.  In addition, Major Lantz has been responsible for leading the implementation of the County's Geographic Based Policing initiative which was launched 2012.
"I am extremely pleased for the citizens of Albemarle County to have Major Lantz commanding our Police Department," said County Executive Tom Foley. "He exhibits the highest standards of professionalism, integrity and leadership and his vast experience, skill, and integrity make him an ideal person to continue the tradition of excellence which is a hallmark of our police department."
"As the Deputy Chief of Operations for the past three years, Major Lantz has proven his commitment to providing the best possible police service to our community," said Colonel Steve Sellers, Albemarle County's outgoing Chief of Police. "He has been a dedicated, hard-working leader and has earned the trust and respect of citizens, community partners and his County staff colleagues."
Prior to joining the Albemarle County force, Lantz completed his career with the Fairfax County Police Department by serving as a District Station Commander where he was responsible for 155 officers providing police service to 125,000 residents. While with Fairfax County, Lantz received the Departmental Meritorious Commendation, the Departmental Meritorious Action Award, and the Departmental Meritorious Service Award.
"I live and work in Albemarle County and I could not be prouder of what the Department has accomplished," said Lantz. "I look forward to continuing to serve the community that I live in as Albemarle's Chief of Police and to continuing to advance the Department toward a goal of being a premier law enforcement agency in Virginia."
Lantz received his bachelors degree from the University of Charleston with a major in organizational leadership. He successfully completed the Key Executive Leadership Certificate Program from American University and is currently enrolled in courses geared towards a master's degree with a focus on criminal justice and public administration from Liberty University.
Lantz is also a graduate of the DEA Drug Commander Academy, the FBI National Academy, and the Virginia Association of Police New Chief / Deputy Chief School.