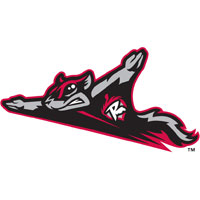 The Akron RubberDucks (52-40) scored three times in the top of the 11th inning to defeat the Richmond Flying Squirrels (54-38), 5-2, in extra-innings at The Diamond on Wednesday night.
With the game tied, 2-2, the RubberDucks were sparked by Francisco Lindor in the 11th inning.  Lindor led off against right-hander Edwin Quirarte and delivered a single to center field.  Lindor then swiped second base.  He scored an out later when Anthony Gallas doubled to left field.  The RubberDucks tacked on two additional runs for good measure.  Tony Wolters knocked in the second with a single and a third scored on a fielding error.  Quirarte (4-4) took the loss for the Squirrels.
Richmond lefty Kelvin Marte worked himself into trouble for the first time with back-to-back walks issued to Gallas and Wolters to start the second inning.  jake lowery then singled on the infield to load the bases with nobody out.  Ronny Rodriguez gave Akron the first lead of the game, 1-0, with a fielder's choice bouncer.  Marte got out of the inning with no further damage, inducing an inning-ending double-play from Jordan Smith.
The Squirrels hurriedly squared the game with their own run in the second off of Akron right-hander Joe Colon.  Devin Harris led off the inning with a double to the left-field corner.  He advanced to third on a balk charged to Colon and scored to tie the game, 1-1, when Ricky Oropesa supplied a single.
Marte and Colon both settled in from there and did not factor in the decision.  Marte surrendered a seventh-inning solo-home run to Rodriguez, but outlasted Colon by an inning.  Marte was charged with two earned runs on five hits across seven innings. Colon allowed just the lone run over six innings, scattered eight hits, walked three and struck out five.
Harris tied the game for the Squirrels in the eighth inning.  He led off with a massive-home run to left-center field off of Elvis Araujo.  His eighth of the year leveled the game, 2-2.
Akron right-hander Shawn Armstrong (2-1) worked two scoreless innings of relief in the ninth and 10th to earn the win.  Richmond righty Hunter Strickland worked a perfect eighth inning behind Marte.  Lefty Steven Okert handled two scoreless innings in the losing effort.
The finale of the four-game series is scheduled for 7:05 p.m. at The Diamond on Thursday night.  Richmond RHP Clayton Blackburn (3-5, 3.04) will make the start against Akron RHP Will Roberts (8-8, 3.64).  The Flying Squirrels Pregame Warmupbegins at 6:35 p.m. on Sports Radio 910 and SportsRadio910.com.