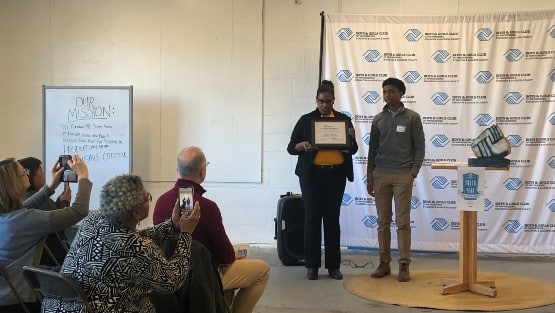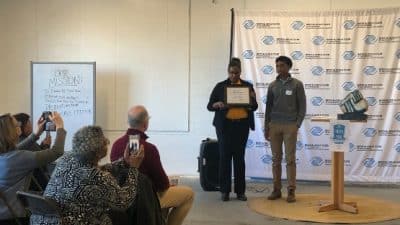 The Boys & Girls Club of Waynesboro, Staunton and Augusta County has been a part of the community for more than 25 years.
The organization's 2023 recipient of the Youth of the Year award is Waynesboro High School senior Omir Foster.
Foster said he joined the organization as a 7th grader.
"Throughout my time here at Boys & Girls Club, I've experienced a lot of things and throughout my time here I've grown more and more attached to the Boys & Girls Club," he said in his acceptance speech. "I wanted to help more."
He said his mother is his role model, and he loves working with children. When he became a Boys & Girls Club staff member was "probably one of the best things I've decided to do, because helping the kids out is a great experience."
He hopes to return to the organization after he attends college at St. Andrews University.
In his welcome at last night's award presentation, Boys & Girls Club Chairman of the Board Steven Mumbauer said the organization's goal is "to support kids, to allow them to reach their best potential, so that they can be leaders next year."
"We are in a new era for the Boys & Girls Club," President and CEO Debra Freeman-Belle said last night referring to renovations and expansion at the Waynesboro building. The organization has "seen its share of hard times."
The Youth of the Year is part of the organization's renovations by creating leaders for the future. Leadership is recognized at each club across the country. Next week, she will accompany Foster as he competes at the state level.
Then the Southeast regional competition will be held, followed by the national competition. The youth who wins at the national level will receive a full scholarship ride to college, a new car and the opportunity to work with the White House on youth initiatives.
"We're excited that Omir will be representing us through that process and we hope he goes as far as his potential allows," Freeman-Belle said.
In addition to his award, Foster was presented with a $4,000 check from the Community Foundation of the Central Blue Ridge.
"He is what we consider the epitome of productive, caring and responsible," Freeman-Belle said of his recognition as this year's Youth of the Year.
She read from the letter she submitted on his behalf to Boys & Girls Club of America.
"We know he has a great future before him and we are honored to be a part of his journey," she wrote, because Foster is driven, kind, helpful, intelligent and a leader for his peers.
How he approaches his life path is why the organization chose Foster as the 2023 Youth of the Year. Freeman-Belle told a story of Foster's senior year of playing football coming to an end when he was unexpectedly injured. However, Foster did not let the change in his plans keep him from continuing to support his football teammates "with sincerity and class."
"He is a true leader in the face of good times and in the face of adversity," she said. "Even when injured, he always remained productive, caring and responsible."
Mayor Lana Williams said she was proud of Foster. She said he showed leadership by getting up in front of an audience last night and speaking, something she finds challenging. And she invited him to attend a Waynesboro City Council meeting so that the city could also recognize his achievement.
"Congratulations, and I know you will make us proud," Williams said.