The top-ranked Virginia women's soccer team suffered its first loss of the season, falling to No. 5 Virginia Tech 4-2 Friday night in an ACC semifinal at the WakeMed Soccer Park. The loss snapped the Cavaliers (20-1) school-record 20-game win streak, while the Hokies (16-3-2) advance to Sunday's championship game.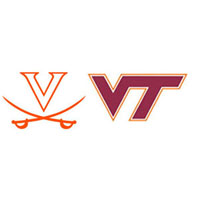 "You have to give a lot of credit to Virginia Tech for how they played tonight," said head coach Steve Swanson. "I don't think this game was really a 4-2 game, just like I don't think the first time was really a 2-0 game. Both were very competitive games. We know Virginia Tech is a great team and the better team won tonight."
For the second straight game, the Cavaliers fell behind early in the contest. Jazmine Reeves scored off a breakaway in the ninth minute to give the Hokies the 1-0 lead. The Cavaliers drew even in the 17th minute as sophomore defender Emily Sonnett (Marietta, Ga.) one-timed a corner kick from junior midfielder Danielle Colaprico (Freehold, N.J.) inside the far post for her second goal of the season. Less than a minute later Virginia Tech retook the lead as Reeves scored on another breakaway for her second goal of the evening and her 10th goal of the season. The Hokies took the 2-1 lead into intermission, marking the second time this season the Cavaliers have trailed at the half.
Virginia Tech extended the lead to 3-1 in the 50th minute when Murielle Tiernan headed in a Jordan Coburn corner kick. The lead became 4-1 in the 71st minute as Katie Yensen headed in a cross from Kelsey Loupee. The Cavaliers drew back a goal in the 84th minute when sophomore forward Makenzy Doniak (Chino Hills, Calif.) scored on a breakaway for her team-leading 15th goal of the season. The goal was set up by a through ball from junior midfielder Morgan Brian (St. Simons Island, Ga.), who tied the single-season school record with her 14th assist of the year.
The Cavaliers' two goals give them 67 for the season, breaking the school record for goals in a year, set last year with 66 tallies. The four goals by the Hokies marked the most goals allowed by Virginia since a 5-1 loss to North Carolina on Oct. 24, 2008, a span of 121 games.
Overall, Virginia outshot Virginia Tech 10-9 and had a 4-3 corner kick advantage. Freshman goalkeeper Morgan Stearns (San Antonio, Texas) made three saves for the Cavaliers, while Dayle Colpitts made three saves for the Hokies.
Virginia will now await the NCAA Tournament bracket, which will be announced on Monday. The field of 64 will be unveiled on NCAA.com at 4:30 p.m.
"If you look at our body of work this season, I think we have played some remarkable soccer," said Swanson. "We have played some consistent soccer. I know we are disappointed by this result, but I expect us to enter the NCAA Tournament with a lot of confidence given how we have played the entire season."