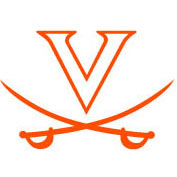 Nate Irving (Fr., Yonkers, N.Y.) hit a walk-off single in the 11th inning to score Mitchell Shifflett (So., Midlothian, Va.) and lift the No. 25 Virginia baseball to a 3-2 victory over Radford Tuesday evening at Davenport Field. Irving's hit capped a career-high four hit night for the freshman catcher.
The walk-off hit made a winner of Justin Thompson (Sr., Danville, Va.), who pitched 2.2 innings of scoreless relief and improved to 3-1 this year. Abram Williams (1-3) gave up the winning hit in the 11th and took the loss for Radford (23-17).
Both starting pitchers were excellent. Virginia starter Kyle Crockett (So., Poquoson, Va.) worked 5.0 outstanding innings. He allowed just an unearned run and three hits while striking out a career-high eight batters. He did not walk a batter. Radford starter Jake Palese tossed 5.2 innings and gave up two earned runs, five hits and three walks while striking out a pair.
Branden Cogswell (Fr., Ballston Lake, N.Y.) added a pair of hits for Virginia (27-14-1). Stephen Bruno (Jr., Audubon, N.J.) had a sacrifice fly but saw his 13-game hitting streak come to an end after going 0-for-3. UVa made some key plays in the field as well, with the defense turning four double plays, including two in the final three innings.
Virginia went station to station in scoring a run in the first inning. Chris Taylor (Jr., Virginia Beach, Va.) led off with a single, stole second and then moved to third on a Cogswell groundout. He scored on a Bruno sacrifice fly.
Radford tied the game in the fifth but let a golden opportunity to tack on more runs slip away. The Highlanders loaded the bases with none out, and Crockett hit Blake Sipe with a pitch to force in a run. Crockett buckled down and struck out Daniel Wright and Josh Gardiner before getting Zach Costello to softly line out to Taylor at shortstop to end the inning.
Virginia moved back ahead with a run in the sixth. Cogswell hit a leadoff single and moved to third one out later on a single to right by Derek Fisher (Fr., Rexmont, Pa.). Jared King (Sr., Radford, Va.) followed with a sacrifice bunt to center to plate Cogswell.
Radford promptly tied the game in the seventh. Cory Turner hit a leadoff double, then moved to third on a groundout by Hunter Higgerson. Turner scored easily when Sipe got a bunt down on a suicide squeeze.
The game remained tied until the 11th inning. With one out Shifflett lined the first pitch he saw into right field for a double – UVa's first extra-base hit of the game. Colin Harrington (Jr., Johnstown, Pa.) then reached on an error. Irving lined the next pitch just inside first base and down the line for the game-winning hit and his second walk-off single of the year.
Virginia next plays at 7 p.m. Wednesday against VCU at The Diamond in Richmond, Va. The game will be broadcast by WINA 1070-AM in the Charlottesville area, and the audio will be streamed online on VirginiaSports.com (subscription required). Live video and GameTracker links also can be found at VirginiaSports.com.