The 11th-ranked Virginia men's soccer team had its 11-match unbeaten streak snapped Friday evening with a 1-0 loss to No. 23 North Carolina in front of 2,990 spectators at Klöckner Stadium. The defeat was UVa's first since Sept. 13at Wake Forest as the Cavaliers were shut out for just the third time in 2013.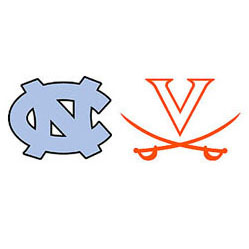 "It's a tough loss for us, but give UNC credit. They are tough to score on and are athletic all over, especially in the back and at keeper," Virginia head coach George Gelnovatch said. "I thought we did some good things in the first half and carried it into the second half, but we didn't create enough good scoring chances. Some of that was fatigue and a lot of it was UNC."
UNC's defense stymied the Cavaliers' potent offense all evening. UVa (8-4-4, 3-3-4 ACC) took a season-low four shots and put just one on goal against UNC goalkeeper Brendan Moore. The Tar Heels took eight shots, with UVa goalkeeper Jeff Gal (R-So., Bartlett, Ill.) making a pair of saves. Both teams took just one corner kick.
North Carolina was called for 25 fouls, while UVa was assessed 15.
The Tar Heels controlled possession in the early going and took advantage of a Virginia misplay to score the game's lone goal in the 11th minute. After the UVa turnover, UNC swung the ball back across the field, and Omar Holness ripped a low shot which Gal deflected but could not corral, and Tyler Engel collected the rebound and poked it in for his fifth goal of the year.
Virginia controlled possession for much of the latter portion of the first half as well as the first 25 minutes of the second half but could not connect for the equalizer.
The Cavaliers conclude the regular season next Friday (Nov. 8) with a home ACC tilt against Boston College. Senior Night ceremonies will be conducted prior to the 7 p.m. match.