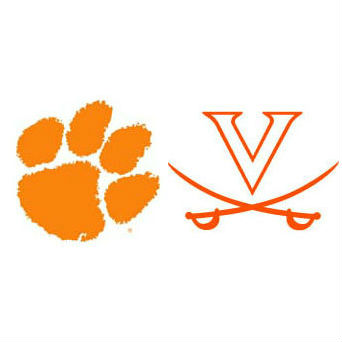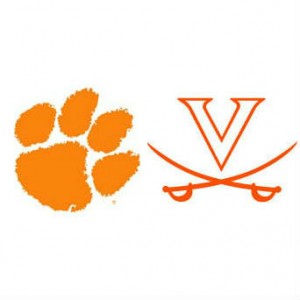 Virginia Cavaliers (28-5, 12-3 ACC)
Probable Starting Rotation
Fri. – So. LHP Nathan Kirby (6-1, 1.03 ERA)
Sat. – So. RHP Josh Sborz (3-1, 2.63 ERA)
Sun. – So. LHP Brandon Waddell (4-1, 3.14 ERA)
Clemson Tigers (20-12, 9-5 ACC)
Probable Starting Rotation
Fri. – So. LHP Matthew Crownover (6-2, 2.23 ERA)
Sat. – TBA
Sun. – TBA
The second-ranked UVa. baseball team begins a seven-game homestand this weekend as it takes on No. 14 Clemson at Davenport Field. The series begins at 6 p.m. Friday, followed by a 2:30 p.m. Saturday matchup and the series finale at 1 p.m. Sunday.
Broadcast Information
Live video broadcasts will be available for the Saturday and Sunday games, while a live audio broadcast will be available Friday, all through a Cavaliers Live subscription on VirginiaSports.com. wina 1070-AM and WINA.com will carry the Saturday and Sunday games.
The Saturday game also will air across several stations along the Virginia Sports Radio Network: 1340-AM (Petersburg), 97.9 FM (Lynchburg), 94.3 FM (Staunton) and 1370 AM (Martinsville).
Live statistics (GameTracker) also will be located on VirginiaSports.com. The video, audio and live stats also can be accessed through the Virginia Sports app, which is available through iTunes.
Parking Information
Free parking is available in the University Hall, John Paul Jones Arena, and McCue Center lots and the Emmet/Ivy Garage starting Friday at 4 p.m. for the baseball game and the men's lacrosse game against Duke. Both contests start at 6 p.m. Large crowds are expected for these events and fans are encouraged to allow additional time to park before the start of the games.
Free parking is available in the University Hall, John Paul Jones Arena, and McCue Center lots and the Emmet/Ivy Garage for the Saturday game. Fans should be aware of the Monster Trucks event at John Paul Jones Arena that begins at 7:30 p.m. Saturday.
Parking will not be available in the JPJ lot on Sunday because of the Monster Trucks event.
Promotions
The first 50 students at the Friday game will receive a voucher good for a free hot dog and Pepsi at the game. The third set of UVa trading cards also will be distributed.
Virginia basketball standout Joe Harris will be throwing out the ceremonial first pitch on Friday at 5:50 p.m.
Sunday is Little League Day. Little league baseball and softball players and their families can purchase specially priced $5 general admission tickets through the Virginia Athletics Ticket Office (by phone and in advance of game day only). Each team in attendance will have its name showcased on the video board.
There also will be postgame autographs and kids' running of the bases following the Sunday game.
Virginia in the Latest National Rankings
NCBWA – 1
USA Today Coaches, Baseball America, Perfect Game – 2
Collegiate Baseball – 3
Virginia-Clemson Series
Clemson leads the all-time series, 102-51, but UVa has held the edge of late. Since the current coaching staff started in 2004, Virginia has won 23 of its 28 games versus the Tigers.
Virginia had a nine-game winning streak, its longest ever against Clemson, snapped last year against the Tigers. UVa took two of three road games from Clemson last year, but two were decided by one run and the third game by three runs. The Cavaliers swept Clemson in 2012 in Charlottesville.
Virginia Continues Strong Start
Virginia is off to a 28-5 start, marking UVa's third-best record through 33 games in program history. UVa started the 2011 and 2013 seasons with 30-3 marks. The 2009 squad also started with a 28-5 record. Other top starts: 27-6 (2007), 26-7 (2004, 2010), 25-8 (1985, 2006).
Great Pitching vs. Offense Matchup On Tap This Weekend
The Virginia-Clemson series pits the team with the ACC's best ERA (UVa) against the league's top offense (Clemson). UVa leads the league with a 2.01 ERA, while Clemson has an ACC-best .292 batting average. Virginia has limited opponents to a .193 batting average this year, including a .177 mark in conference games.
Tough Schedule To Wrap Up April
Virginia is moving into a tough portion of the 2014 schedule. UVa has home ACC series with No. 14 Clemson and North Carolina the next two weeks before heading to No. 1 Florida State April 25-27. UVa has road games at VCU and ODU on the final two Tuesdays of April.
Looking at Clemson
Steve Wilkerson leads the Tigers and ranks fourth in the ACC with a .347 batting average, pacing a Clemson offense which leads the league in batting average (.292) and doubles (71) and ranks second in runs (209). Tyler Slaton is batting .328, while Steven Duggar is at .320.
The Tigers rank 12th in the conference in ERA at 4.17. Their Friday starter this week, Matthew Crownover, is sixth in the league in ERA (2.23) and tied for first with UVa's Nathan Kirby and UNC's Trent Thornton in wins with six. Clemson is 13th in the league in fielding with a .957 mark.
Up Next
Virginia remains home Tuesday for a 6 p.m. game with Radford before North Carolina comes to town next weekend (April 18-20) for a three-game conference series.