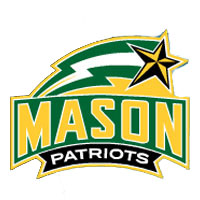 For the first time since the 1990-91 season, the Atlantic 10 Conference will boast an 18-game conference schedule this upcoming season as the league officially released the men's basketball conference pairings for the 2014-15 season today.
The pairings, set for the 2014-15 season, include home-and-home series for the Patriots against A-10 newcomer Davidson, George Washington, Richmond, Saint Louis and VCU. Mason will welcome to the Patriot Center for home games against Fordham, La Salle, Massachusetts and rhode island.
The Patriots will face road contests against Dayton (Dayton, Ohio), Duquesne (Pittsburgh, Pa.), St. Bonaventure (St. Bonaventure, N.Y.) and Saint Joseph's (Philadelphia, Pa.).
All 14 members will meet in Brooklyn, N.Y. for the Atlantic 10 Men's Basketball Championship once again held at the Barclays Center, March 11-15.
The A-10 is coming off a historical season in which a record six teams earned a bid to the NCAA Tournament, including Dayton's magical run to the Elite Eight, the seventh straight year an A-10 team has reached an NCAA Regional round (Sweet 16). The league also had seven teams ranked or earning votes in the national poll and finished with six teams in the RPI top 50.
Mason's non-conference schedule will be released later this summer and its complete schedule will be released at a later date.
Season ticket information for the 2014-15 season will be available later this summer.
2014-15 ATLANTIC 10 MEN'S BASKETBALL PAIRINGS FOR GEORGE MASON
Home-and-home: Davidson, George Washington, Richmond, Saint Louis, VCU
Home Games: Fordham, La Salle, UMass, Rhode Island
Away Games: Dayton, Duquesne, St. Bonaventure, Saint Joseph's