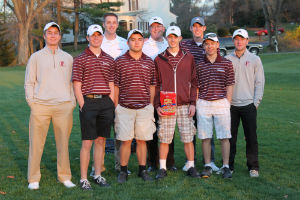 The #1 ranked Fishburne Military School golf team defeated the #2 ranked Kenston Forest School (Blackstone, Va.) Monday in a match at the Waynesboro Country Club.
The Caissons (4-0) rolled on to get the victory over Kenston Forest (6-1), winning 174-192. Low medalist was Nick Fedchock firing a 2-over 38. Also contributing was Matthew Manos (44), Collin Wade (44), Joseph Baan (48), Reid D'Amico (49) and Jacob Cochran (49).
"These were not the best scores I've seen, but a win is a win, and Coach Sayre and I will take it," FMS golf coach Patrick Shiflett said. "Any time you play a top-ranked team, there are always nerves, and we saw some of that, especially early on. I was proud of the way Nick (Fedchock) came back and played the last four holes. He showed a lot of grit and leadership there. Again, always room for improvement but Coach Sayre and I are very proud of the guys"
Next up for the Caissons is Eastern Mennonite, today in Harrisonburg.