Kansas rejects abortion ban: Is this a sign of Dobbs backlash that might play in Virginia?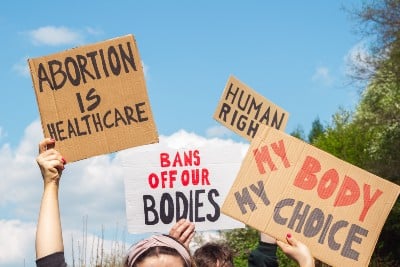 Voters in Kansas, which went for Donald Trump by 15 points in the 2020 election, overwhelmingly rejected a proposed constitutional amendment that would have allowed the state legislature to ban abortion.
The conventional wisdom about the 2022 midterms is due some revisiting.
"For my money, the most significant result tonight is the #Kansas landslide vote against further restrictions on abortion. It's Red Kansas, for God's sake. Even if it was a close vote with NO losing, this would have suggested a backlash to Dobbs and the ensuing rush to ban abortion," UVA Center for Politics director Larry Sabato tweeted last night.
NO ended up receiving 59 percent of the vote on Tuesday, undermining a three-year effort by Kansas Republicans to sneak the proposed abortion ban past voters by holding the referendum alongside largely Republican primaries in the middle of the summer.
As Sabato alluded to, what changed things up in Kansas was the Supreme Court decision in Dobbs that overturned 50 years of judicial precedent protecting abortion rights dating back to the historic 1973 Roe v. Wade.
The vote in Kansas was the first test of how Dobbs will impact electoral politics. Republicans might want to look at the resounding defeat for the referendum as a warning sign.
"Today, Kansans delivered a clear message to the anti-choice extremists in their state and states across the country: the pro-choice movement has the majority, and when we organize, we win," #VOTEPROCHOICE co-founder and CEO Heidi Sieck said. "Despite the far right spending millions of dollars in false advertising and peddling lies to voters, Kansans saw through the cynicism and cruelty of the far-right, took their power to the polls, and secured a massive victory for reproductive freedom."
In Virginia, the abortion rights issue figures to play a role in three congressional races in which Republicans are challenging incumbent Democrats – in the Second District, where Jen Kiggans is facing Elaine Luria, in the seventh, with Yesli Vega battling Abigail Spanberger, and the 10th, which has Hung Cao up against Jennifer Wexton.
Democrats seem ready to make the abortion rights issue a centerpiece in those expected tight races, with Kiggans, Vega and Cao all having been vocal in their support of further efforts to ban abortion at the federal level.
"The results in Kansas should ring alarm bells for Virginia Republicans Jen Kiggans, Yesli Vega, and Hung Cao. Voters made clear in a state much redder than Virginia that they don't want the GOP's toxic policies to take away women's right to make our own health care decisions," said Monica Robinson, a spokesperson for the Democratic Congressional Campaign Committee.