Sports
UVA hoops in Italy: Looking for wins, but more importantly, team-building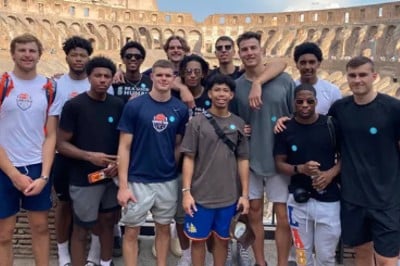 The UVA basketball team is on a 10-day basketball tour of Italy, which gives the team four games, not necessarily against top competition, but still, it's competition.
More than the competition, though, the trip is an opportunity for the team to bond.
"Going into the fountain, seeing the Spanish steps and just touring around, that part's been, it's been wonderful so far, going to the Vatican, going to the Colosseum, all those things," coach Tony Bennett said after the team's opening win, a 76-24 laugher over Stella Azzura Basketball Academy, on Saturday in Rome.
Think back to the summer of 2018, when Bennett took his team on a whitewater rafting trip to West Virginia.
There was no on-court work to be done, no drills to finish, no gameplans to solve. There were competitions — a mini-golf tournament and rafting races among them — but there was camaraderie.
"I learned to trust," said Mamadi Diakite, who didn't trust, at first, the murky water, and had to overcome some basic, deep-seated, fears, but eventually allowed himself to relax and have fun.
"I felt like we were syncing with the coaches. The coaches looked sort of like players. We could interact and have fun. That hierarchy wasn't here. We were just playing around," Diakite said.
That team was coming off the historic loss to UMBC in the first round of the 2018 NCAA Tournament, and needed to blow off some steam.
This year's group is coming off what, for Virginia Basketball, was a subpar season – 18 regular-season wins, shut out of the NCAA Tournament, eventually bowing out in the third round of the NIT.
Bennett has his top six minutes-getters back from last year, and has added a top transfer portal guy, Ben Vander Plas from Ohio U., plus the best recruiting class to come to UVA since the 2016 group with future NBA players De'Andre Hunter, Ty Jerome, Kyle Guy and Jay Huff.
Team-building is the goal for this 10 days in Italy.
"I'm only going to be in Italy what, maybe like once ever, so I want I want to experience all the tourist stuff," redshirt junior center Kadin Shedrick said. "We're also locked into the basketball, and you know, it's exhausting, but I think everything is worth it, because we're never going to get this time back with each other, and it's great for like our team building and stuff and chemistry and all that. So, I really love the opportunity."
Among the excursions was a team visit to a Serie A soccer match in Florence that came down to a game-winning goal for the home team, AFC Fiorentina, in the fifth minute of stoppage time.
"It was awesome," said Isaac Traudt, a 6'9" freshman. "I'm not a big soccer guy. I've honestly never watched a soccer game in my life, high school, on TV, nothing, so it was really cool to see, like, the atmosphere there, like, those people are so into that, and to see the game-winning goal, you know, we were all going crazy. So, it was really fun and a cool moment."
Then there was the 463-step climb up the Cupola Dome to the top of the Duomo that left everyone dead-legged on game day.
"The steps those were crazy, I'm still gassed from those," Shedrick said after the 71-41 win over Orange1 Basket Bassano in Florence on Monday. "Getting to the top, you know, it was cool to watch from afar. I'm afraid of heights, so that was interesting. I was definitely terrified. My heart was beating pretty fast. It was cool."
Shedrick's words about being afraid of heights seem to sort of echo those from Diakite about being afraid of the water from three years ago, don't they?
"I think they really appreciate it," Bennett said, before relating a story from Isaiah Wilkins, a former UVA player who is now an assistant on Bennett's staff.
"Isaiah said at the end, when I went on this trip with my teammates, he said, take more pictures with your teammates. You will remember this trip, you want pictures with your guys, and just kind of, I thought that brought it full circle how significant this will be, and they don't even realize it," Bennett said.
It's all those things, Bennett said.
"It's on the court, try to establish playing hard, hopefully, it'll be some good, better competition as we move forward, but you play what's in front of you, and you go have a good Italian meal after."