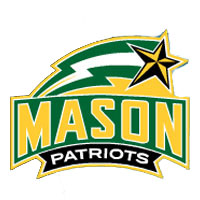 The George Mason men's basketball team dropped its first game of the Puerto Rico Tip-Off Thursday night to West Virginia, 91-65. The games are played in the Coliseo Roberto Clemente.
West Virginia (3-0) forced 24 Mason (1-2) turnovers, including 16 in the first half that led to a 53-27 Mountaineer halftime lead. For the game, Mason shot 48.9 percent from the floor going 22-for-45 as the Mountaineers were 44.4 percent from the field on 32-for-72 shooting. WVU won the battle on the glass, 43-33, and converted 19 offensive rebounds into 21 second chance points.
Patrick Holloway and Shevon Thompson each posted double-figure scoring numbers as Holloway led the team for the third straight game with 17 points. Thompson finished with 14 points and six rebounds. Holloway finished the game hitting five treys, tying his career-high.
After West Virginia's Devin Williams opened the game with a jumper, Holloway gave Mason its only lead of the game following with a triple at the 19:22 mark for a 3-2 advantage. The Mountaineers responded with a bucket to regain the lead which they would never relinquish. WVU led by as many as 28 points in the first half and led at the break, 53-27.
Shooting 52.0 percent in the second half, Mason matched West Virginia with 38 points, but it was not enough to overcome the first half deficit. Trailing 71-42 with just over 11 minutes remaining, Eric Lockett sparked a 10-2 Mason run over the next three minutes, cutting the score to 73-52 with 8:20 left in the game. WVU responded expanding its lead back out and capped the game 91-65.
Jonathan Holton and Devin Williams led the Mountaineers with 16 points each, while Williams finished with a double-double behind 10 rebounds. WVU was 18-for-26 from the free throw line, while Mason was 16-for-32.
Mason returns to action on Friday night facing New Mexico at 7 p.m. EST on ESPN3.